Ham, Spinach, & Goat Cheese Quiche
I love quiche. And I honestly don't see the point of putting a crust on a quiche. Don't get me wrong, I love pie crust, but I just think it gets in the way of a great quiche. Plus, by skipping the pie crust, a quiche becomes as easy to make as making scrambled eggs.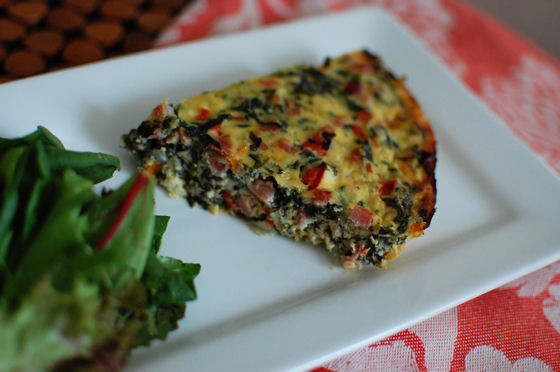 This is the third quiche that I've posted on here. And I think it's my favorite. In all honesty, it's no surprise since it's really a combination of the previous two recipes. Hubby was extremely excited that the recipe made two quiches so he could eat the leftovers all week long.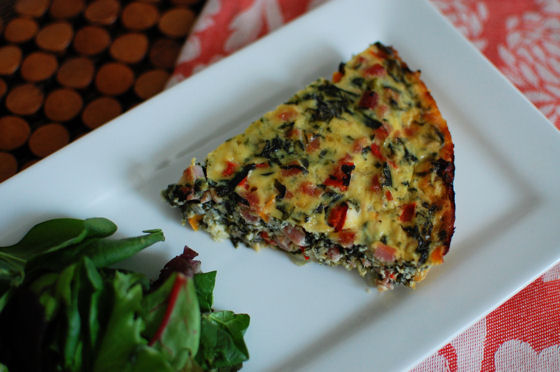 You could really use any combination of meat, vegetables, and cheese that you like or have on hand. I love using red bell peppers in quich (or anything, really). They're full of flavor and brighten up any dish.
One Year Ago: The Publick House Mac and Cheese and Salted Caramel Pecan Brownies
Two Years Ago: Chocolate Hazelnut Baklava
Three Years Ago: Two Potato Chowder
Four Years Ago: Smashed Chickpea Salad
Five Years Ago: Lemon Cupcakes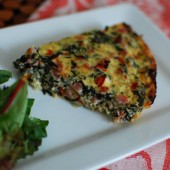 Ham, Spinach, Goat Cheese, and Bell Pepper Quiche
Ingredients:
1 Tbsp butter
1 medium onion, diced
4 cloves garlic
1 10 oz package chopped frozen spinach, defrosted and drained
Two 8 oz packages diced ham (or 16 oz leftover ham, diced)
2 bell peppers
6 eggs
3/4 cup milk
6 oz plain greek yogurt
1/4 tsp freshly ground nutmeg
salt and pepper to taste
1/4 cup shredded cheese (such as Gruyere)
1/4 cup crumbled goat cheese (or other cheese of your preference)
Directions:
Preheat oven to 375F. Lightly grease two pie plates.
Melt the butter over medium heat in a large skillet or dutch oven. Add onion and garlic and cook until fragrant, about 5 minutes. Add the ham and spinach. Cook until heated through, another 5 minutes. Add the bell peppers and cook for 2 minutes. Remove from heat.
In a large bowl, whisk together the eggs, milk, yogurt, nutmeg, salt, and pepper. Stir in the cheeses.
Add the vegetable mixture to the egg mixture and stir to combine.
Divide into two pie plates. Bake for 40 minutes or until set.
8 Responses to "Green Bean Casserole"
Leave a Comment