The Publick House Mac and Cheese
Fellow Bostonians, have you been to The Publick House in Washington Square? If you haven't been there, you need to go this weekend. It's one of our favorite places to go. And we happen to live right down the street. Score!
Hubby is pretty predictable when it comes to his order at The Publick House. He always gets the mac and cheese or the moules-frites. (I always go with the veggie burger). I decided I wanted to find a recipe for this famous mac and cheese for a recent dinner with friends. Luckily, there was a recipe posted on Boston.com.

I grabbed all my ingredients and got ready to make this mac and cheese. First, I cut the recipe in half. I was cooking dinner for 4 people and the recipe said it serves 8. Hubby helped by shredding the cheeses while I was cooking the bechamel sauce. Once the cooked macaroni was stirred into the cheese sauce, it was then baked for 20 more minutes. This mac and cheese is definitely a labor of love. But's it is so worth it. I took a couple bites and really enjoyed it. Hubby and our guests enjoyed it as well!
One Year Ago: Dulce de Leche in the Crockpot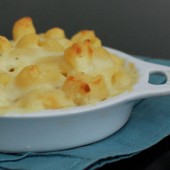 The Publick House Mac and Cheese
Enjoy this cream mac and cheese recipe from The Publick House in Brookline
Ingredients:
1 pound pasta
1 stick unsalted butter
1 small white onion, finely chopped
1 cup flour
1/4 tsp freshly ground nutmeg
4 to 6 cups whole milk
1 cup heavy cream
4 Tbsp grated Jarlsberg Swiss cheese
4 Tbsp grated asiago cheese
4 Tbsp grated mild white cheddar
4 Tbsp grated smoked mozzarella
2 Tbsp crumbled gorgonzola cheese
Salt and black pepper to taste
Directions:
In a large saucepan set over medium-low heat, melt butter and add onion. Cook for 4-6 minutes until onion is translucent and tender. Add flour and stir to combine. Lower heat to low and cook another 10 minutes, stirring occasionally.
Make bechamel: Add nutmeg and 4 cups milk and cook over medium low heat for 20-25 minutes, stirring occasionally to break up the roux until it thickens to the consistency of pudding. Add more milk if the mixture is too thick (if the spoon can stand straight up in the center of the pot). Remove from heat.
Meanwhile, preheat oven to 350 degrees F.
While the bechamel is cooking, cook the pasta al dente in boiling water according to package directions.
When bechamel is cool, fold in the cheeses, then transfer cheese mixture to a large stock pot set over medium heat. Add heavy cream and cook cheese until melted, stirring occasionally. Add cooked pasta and toss to coat it completely with the cheese. Season with salt and pepper to taste.
Transfer mixture to a large oven-safe casserole dish and bake for 20-25 minutes or until cheese is bubbly and the top is browned.
2 Responses to "Pizza Roll"
Leave a Comment