Two Potato Chowder
My step mom made this soup for us last year when we were visiting. It's very tasty and filling. And, it's easy to whip up! Don't forget the shredded cheese and bacon to sprinkle on top of the soup when you serve it. This will warm you up to the core on these cold and nasty days we've been having!
One Year Ago: Smashed Chickpea Salad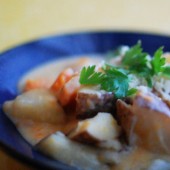 Two Potato Chowder
Ingredients:
1 Tbsp butter
1 onion chopped
1 celery stalk, thinly sliced
1 garlic clove, minced
2 medium pototoes, cut into 1/2 inch cubes
2 small sweet potatoes, peeled, cut into 1/2 inch cubes
1 (14 1/2 oz) can vegetable or chicken broth
2 c milk
3 Tbsp flour
1/2 tsp salt
Dash ground cayenne
sliced green onions
cheddar cheese
crumbled bacon
Directions:
Melt butter in large saucepan over medium heat. Add onion, celery and garlic; cook and stir 3 to 4 minutes or until vegetables are crisp-tender.
Add white potatoes, sweet potatoes and broth. Bring to a boil. Reduce heat to low; cover and simmer 15 to 20 minutes or until potatoes are tender.
In medium bowl combine 1/2 cup of the milk and flour; mix until smooth. Stir in remaining milk, salt and cayenne until well mixed. Stir into soup; cook over medium heat for 3 to 5 minutes or until bubbly and thickened, stirring constantly.
To serve, ladle soup into 4 individual soup bowls. Sprinkle each with green onions, cheeese and bacon.
6 Responses to "Spinach with Pan Roasted Red Peppers and Goat Cheese"
Leave a Comment