Sewing for the holidays, already?
This blog has been long neglected. I keep thinking I might add some of my sewing adventures and what better day than today to do that.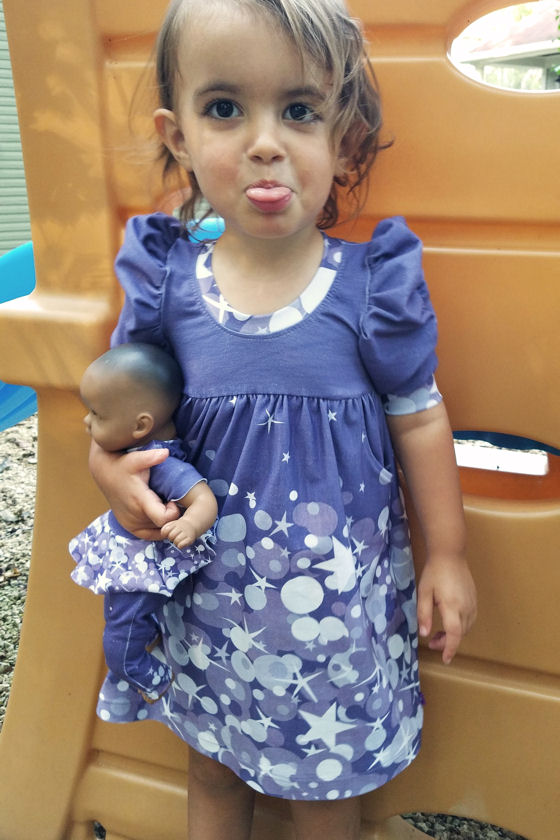 If you follow my instagram feed, you can see that I've started doing a LOT of sewing. Mikayla's wardrobe is almost 100% jenmade and she regularly asks me to "get some fabric" to make whatever her heart desired. Today alone, she asked for spider jammies and a Mickey Mouse shirt. While I have a huge stash of fabric, none of it has spiders or Mickey Mouse on it. Obviously.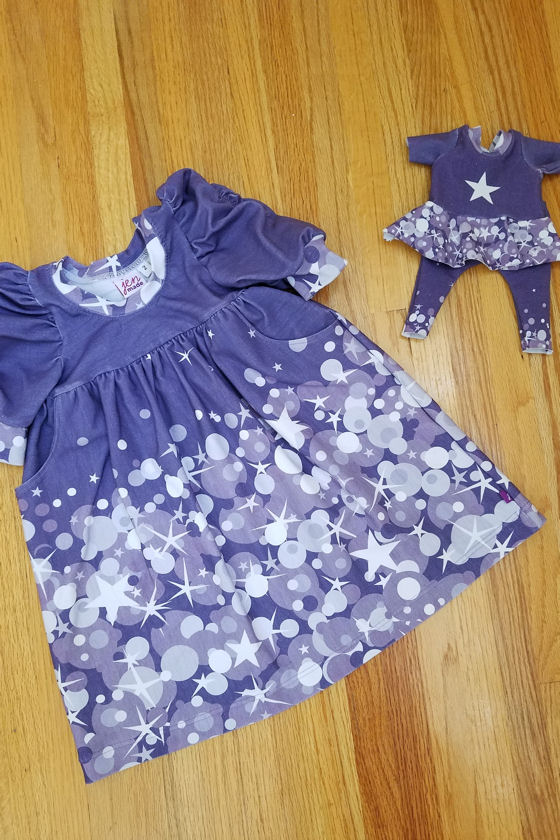 Another thing that started a few months ago is sewing for her doll, Jesse. These days, I use my scraps so there is always a matching dolly-and-me set. She doesn't know how good she has it!
For those of you who aren't into sewing and fabric buying (let's not kid ourselves, that's a hobby in and of itself!), there are tons of fabrics out there to choose from. Many fabrics are custom, meaning a designer comes up with the design and orders a limited quantity of that fabric. It's always cuter than what you can buy at a store.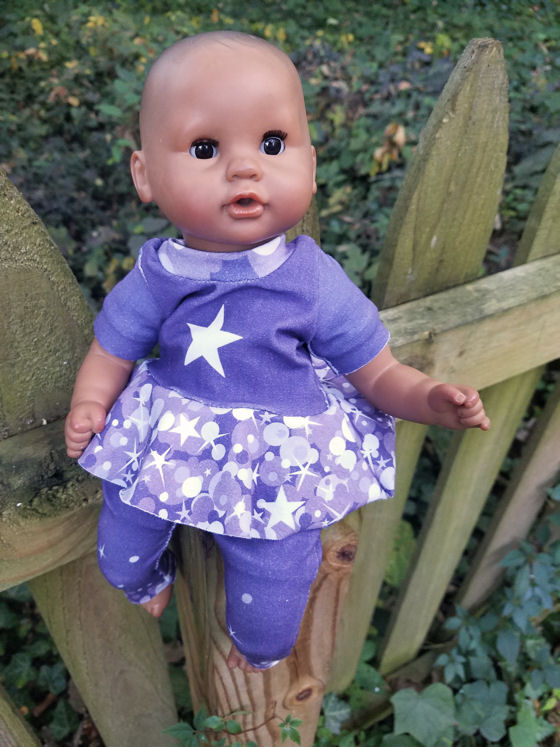 Now, before the designer places their big order for the fabric, a couple things happen. First, they get strikeoffs from their fabric printer. These are basically samples so the designer can see the colors on the actual fabric, check the scale, look for flaws, etc. Then the designer will open the order for preorders, offered at a discounted rate. Once they place their big order, anything in surplus of the preorders is sold at a retail price.
It's a fun process, but also means that I order holiday fabric in July to get the preorder price and then have to wait for the printer to print the fabric, ship it to the designer, they cut it, package and ship it to me. So sometimes fabric appears on the porch that I almost forgot I ordered, because it was 3+ months ago!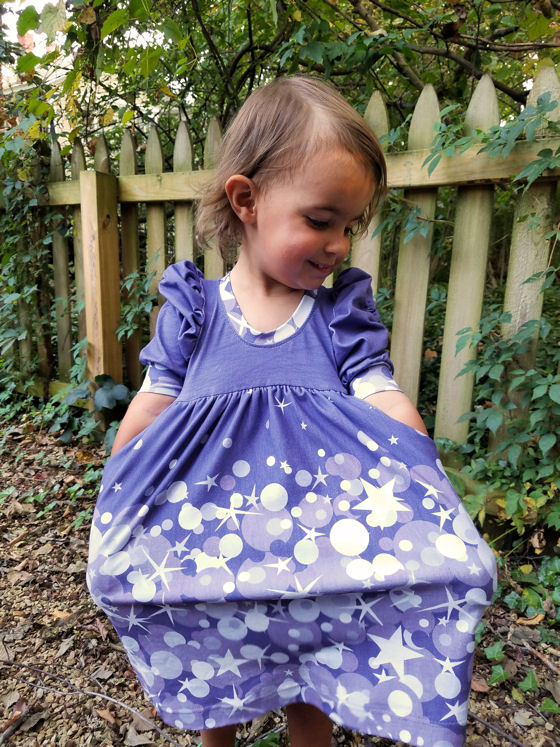 So remember the strikeoffs I mentioned? Those are the samples that the printer sends to the designer. Most designers then send those strikeoffs to seamstresses who make things out of the fabric to help advertise that the fabric is available (because there is a LOT of fabric out there). I was always intimidated that my sewing skills weren't up to snuff enough to get chosen to be a strikeoff seamstress, so I never even applied. I was content just sewing along on my own. Then, I found a group who was running specific fabric for dolly-and-me sets. This designer sells fabric and has coordinating doll panels where the design is scaled down for a doll.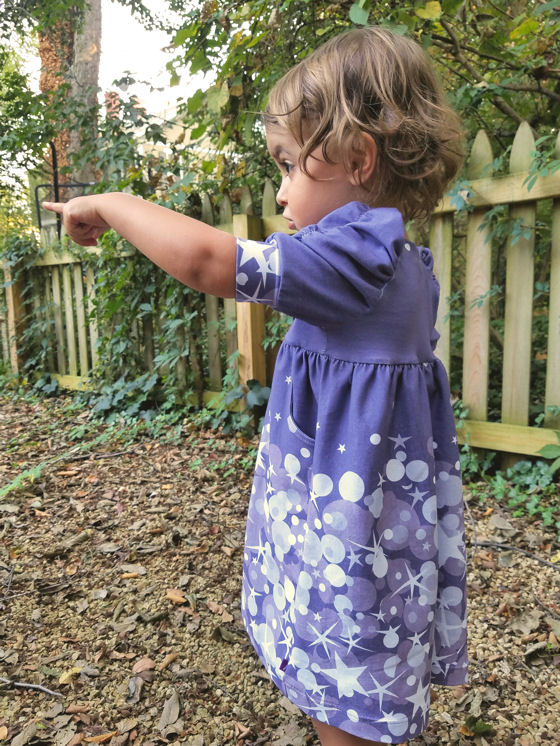 I decided to give it a shot and volunteered to be a strikeoff seamstress, and the results are what you see here. And that's why I am sewing a holiday fabric at the end of September. The Holiday Round over at K's Closet Fabrics is open for preorder open from today until October 21 so there's time for fabric to get to people before the holidays.
This cotton lycra is a nice thick base for a holiday dress for Mikayla. I love the colors and design that scream holidays without being green and red. And I love that the scale of the stars on Jesse's peplum top and leggings is appropriate for her size. If I had used scraps from Mikayla's dress to make them, it would have looked weird.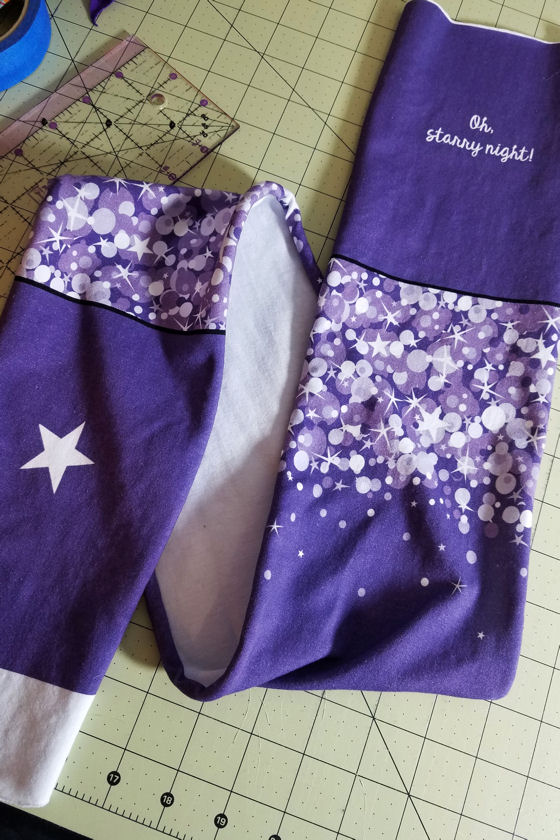 The doll panel comes in a set with multiple prints. I used "Starry Night" and this portion of the doll panel was 8″x38″. It included two panels along with the coordinating fabric. All of Jesse's clothes don't have a specific front or back so that Mikayla has an easier time dressing her. This was great to have two panels to use on each side of the shirt. Unfortunately, this doll panel got cut from the round! But there are quite a few other doll panels that match fabric in there.
Full disclosure, this fabric was provided free for me (I paid shipping) in exchange for me to create something and advertise. For those of you who also have a hobby of collecting fabric, here are the details about where you can get it.
Fabric: from K's Closet open for preorder TODAY until the 22nd. There are some other really cute holiday fabrics in this round as well!
Patterns: Jesse's top is scaled from the Doll Rozzlyn (included with purchase of Rozzlyn pattern) from Max & Meena
Mikayla's dress is a mashup of the Liana tunic with the skirt from the Penelope dress, both from Ellidactyl
7 Responses to "Brindille & Twig: Raglan Tee Pattern (#034)"
Leave a Comment