Raw Summer Vegetable "Pasta"
Fall is definitely starting to show signs of emerging here in Boston. I'm still trying to hold on to these last few days of summer eating before I fully embrace the pumpkin spice lattes and desserts that I associate with Fall.
This "pasta" salad is so easy to throw together and is very delicious. Hubby and I sat down at the table and plowed through half of it as an afternoon snack. If you can still get some end of summer zucchini and tomatoes, you should definitely try this!
Hubby and I both agreed that the amount of tomatoes/garlic/herbs/etc would be perfect for 1/2 the amount of squash. And since this salad doesn't keep very well, if you just cut the amount of squash in 1/2 then you'd get two servings. I have written the recipe below to reflect these changes.
One Year Ago: Steak Fajitas with Chimichurri and Drunken Peppers
Two Years Ago: Lime and Coconut Margarita Cupcakes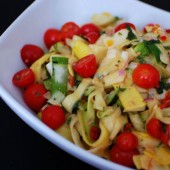 Raw Summer Vegetable "Pasta"
Ingredients:
1 zucchini squash, shaved thinly lengthwise with a vegetable peeler
1 yellow summer squash, shaved thinly lengthwise with a vegetable peeler
Sea salt and pepper to taste
1/2 Tbsp extra virgin olive oil
1 cup cherry or grape tomatoes, halved
5 oil-packed sundried tomatoes, drained and thinly sliced
1/2 shallot, finely chopped
1 clove garlic, finely chopped
1 Tbsp finely chopped basil
1 tsp finely chopped oregano
Directions:
In a large bowl, gently toss together all ingredients. Transfer to a platter and serve immediately.
13 Responses to "Chicken Gyros"
Leave a Comment