Cuban Sandwich Sliders
Want to be the hero at your Superbowl party this year? Make these Cuban Sandwich Sliders. I speak from experience.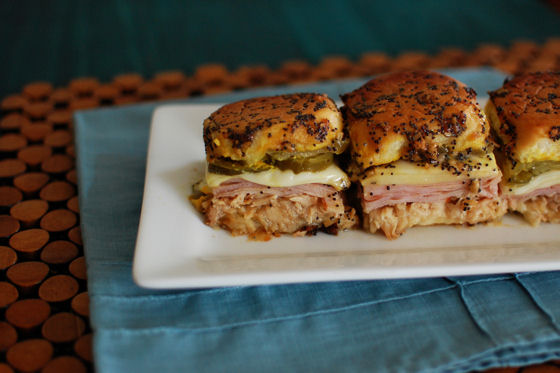 Last year, my good friends Matt and Michelle offered to host the Superbowl party. Their house really is one of the best for hosting a football watching get together. They have a big TV and plenty of seating. Fiona and I offered to provide the food for the party. We were expecting about 25-30 people and being the food-obsessed girls that we are, we planned enough food for about 60. We even had food planned to be brought out at half time so there was hot food throughout the entire game.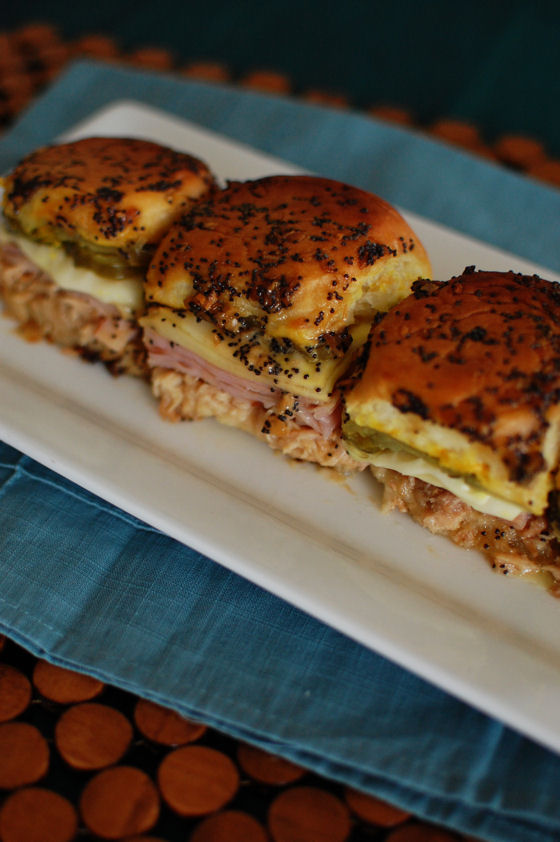 As to be expected, we had a blast planning for the party and everything turned out amazing. But I am going to have to brag for a second and say that these Cuban Sandwich Sliders were the hit of the night. It's really no surprise since they're based on the ever-popular Ham and Cheese Sliders that are marinated in a butter/poppy seed mixture for 24 hours prior to being baked.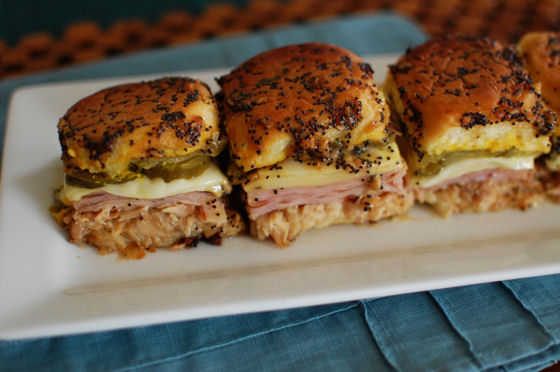 For the past few years, Hubby would make those ham and cheese sliders to take to big parties. Whether it was a Superbowl party, New Years Eve party, or any other occasion, he became an expert at making those little sandwiches. So when we started brainstorming ideas for the Superbowl party last year, Hubby threw out the ham and cheese sliders. One of the other ideas that was being considered was this Cuban Sandwich Dip from Dan of The Food in my Beard. Dan has transformed many sandwiches into dips.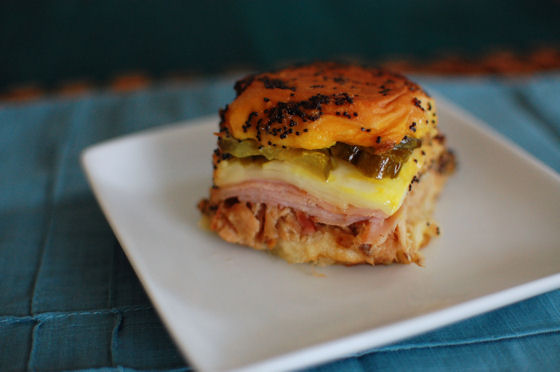 As we were downselecting our menu, it hit me. Turn those addictive indulgent ham and cheese sliders into Cuban Sandwich Sliders by simply adding pork, pickles, and mustard! It was a stroke of genius because these little guys are amazing. Unfortunately, I didn't get any pictures that night last year when the Giants beat the Patriots (woot!) so I made a smaller batch this past weekend so I could share this recipe with you guys.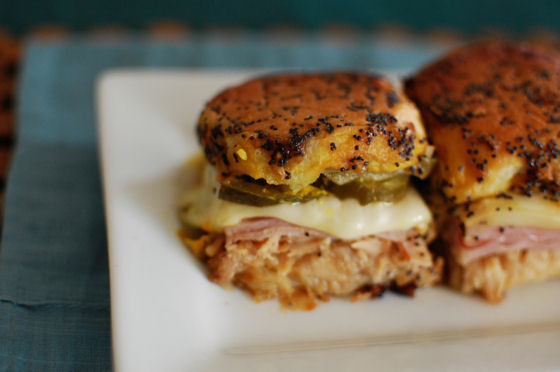 Now you guys know that I dislike pickles. I'm not sure if you understand how much I dislike them though… I made Hubby spread the pickles on the sandwiches because I can't even handle touching them (he did leave a few with no pickles so I could taste a couple). I even had a hard time buying pickles this weekend, hence this photo on instagram.
One Year Ago: Pretzel Bites and Cheesey Mushroom Pull Apart Bread
Two Years Ago: Vegan Sugar Free Chocolate Rum Cookies
Three Years Ago: Chocolate Covered Strawberries
Four Years Ago: Apple Spice Bars
Five Years Ago: Lemon Meringue Cup-pies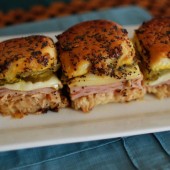 Cuban Sandwich Sliders
Become the star of your next party by serving these Cuban Sandwich Sliders
Ingredients:
1 cup (2 sticks) butter
1 1/2 Tbsp poppy seeds
1 1/2 Tbsp grated dried onions
1 1/2 Tbsp Worcestershire sauce
2 Tbsp honey mustard
2 (12 ounce) packages Hawaiian rolls
24 oz leftover pulled pork (~3 cups)
1 pound cooked ham slices
12 ounces sliced swiss cheese
5-6 Tbsp yellow mustard
2 cups dill pickles
Directions:
In saucepan, mix butter, poppy seeds, onion, Worcestershire sauce & mustard, stir until blended and melted. Pour 1/2 of mixture into bottom of baking dish.
If rolls are not pre-cut, cut them lengthwise. Place the bottom half of the rolls in the baking dish and spread around to start to soak up the sauce.
Layer the pork, ham, cheese, and pickles on top of the buns. Spread mustard on top of buns. Place tops of buns on sandwich.
Using a shared knife, cut through the sandwiches at the bun seams to cut the meat and cheese. Pour rest of sauce over tops of sandwiches, cover dish and refrigerate up to 24 hours for sauce to soak in.
Preheat oven to 325 F. Place another baking sheet on top of the rolls to press the sandwiches as they bake (you can skip this step if you'd like). Bake rolls for 20-25 minutes until rolls are lightly browned and cheese is melted.
Leave a Comment