Winter Kale and Quinoa Salad
Hubby and I got a kick out of this salad. You see, while we lived in Boston, we did a CSA share that we split with our good friends. Last summer we got kale almost every week in the CSA. Now I love me a good massaged kale salad, so I didn't mind all that much. But our friend Michelle isn't that big of a fan. For a long time during those weeks of kale, I ate kale and quinoa salads almost every day for lunch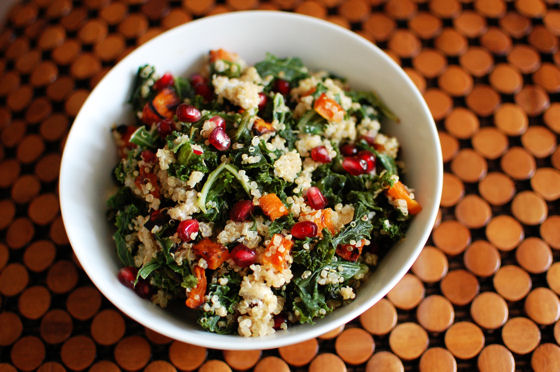 Now quinoa is another thing that Michelle doesn't like. I have been at her place when she tried to cook it and it just didn't turn out. I agree that by itself, quinoa doesn't taste like much of anything. I like to use quinoa as a substitute for rice or noodles in dishes.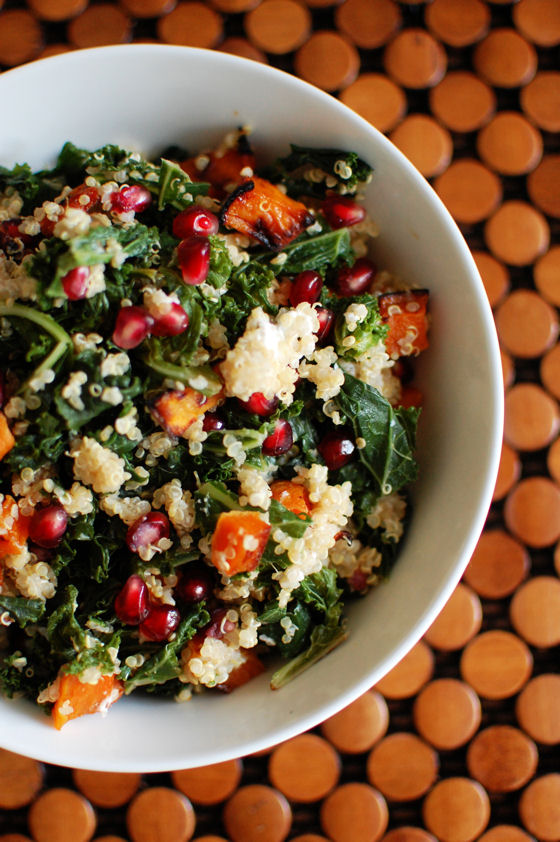 So as Hubby and I were mixing up this salad, we commented on how it was composed of a bunch of our favorite foods. Butternut squash has always been a favorite of mine, and I have been on a huge pomegranate kick recently. I love the little burst of juice you get when you bite in to the seeds. They also give a great texture to any dish.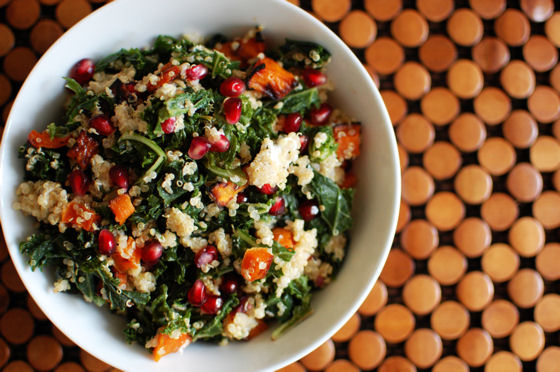 As we were commenting about loving everything about this salad, we joked that we should make it the first time Michelle comes to visit us in Cincinnati. We figure maybe we can get her to like kale and quinoa all at once. Then again, it might be risky and she might never come see us here in Ohio if we try to feed this salad to her.
Hopefully you enjoy kale and quinoa at least a little bit. And if you do, I think you'll love this salad. It keeps fairly well in the fridge for a day or two, so we have been eating this for lunches at work the last couple of weeks.
One Year Ago: Hot Chocolate Cookies and Broccoli and Fruit Salad
Two Years Ago: Pumpkin Cinnamon Rolls and How to Freeze Cinnamon Rolls and Indian Spiced Beans
Three Years Ago: Cranberry, Caramelized Onion, and Goat Cheese Dip
Five Years Ago: Vegan Brownies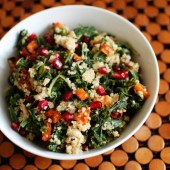 Winter Kale and Quinoa Salad
This salad highlights flavors of winter with butternut squash and kale. The pomegranate arils provide a pop of color, juicey fruitiness, and texture.
Ingredients:
1 small butternut squash (~3.5 lbs)
1 Tbsp honey
1/2 Tbsp olive oil
pinch smoked paprika or ground chipotle pepper
1 cup quinoa
2 cups water
2 bunches kale
1 cup water
1 pomegranate, seeded
1/2 cup crumbled goat cheese
1/2 cup walnuts, toasted
salt and pepper
Directions:
First, roast the butternut squash. Preheat oven to 375F.
I like to nuke the squash in the microwave for 5 minutes after peeling it to soften the squash so it's easier to cut. Cut the squash into consistently sized pieces ~1 inch on each side. Toss with honey, olive oil, and paprika.
Spread squash onto a foil lined baking sheet and bake 30 minutes or until roasted. Stir every 15 minutes.
Remove squash from the oven and allow to cool while preparing the other components.
Next, prepare the quinoa. Follow the instructions on your package or combine 2 cups water with 1 cup quinoa. Bring to a boil, then reduce heat and simmer for 20-25 minutes until quinoa is cooked.
While the quinoa and squash are cooking, prepare the kale by removing any of the thick stems. Tear into bite-sized pieces. Add 1 cup water and the kale to a large pan or dutch oven. Cover and cook on med-high to steam the kale for 5 minutes. Remove the lid, toss the kale, and cook another 5 minutes.
Remove kale from heat and allow to cool.
Once squash, quinoa, and kale are cooked and cooled to room temperature, combine in a large bowl. Add goat cheese, walnuts, and pomegranate seeds. Toss to combine. Add salt/pepper as needed
8 Responses to "Strawberry Shortcake Cookies"
Leave a Comment