Hot Chocolate Cookies
Secret Recipe Club is going through a transition period right now. So you might not see as many posts this month as you normally do for SRC. I decided I definitely wanted to participate even though it was optional in January. Once again, I was lucky enough to "meet" a new Blogger. Kate blogs over at Kitchen Trial and Error.
After browsing through her archives, I once again had a handful of recipes that looked appetizing. I chose the Hot Chocolate Cookies because they seemed fitting this time of year. They're basically chocolate cookies, filled with a variety of chocolate chips, but instead of using cocoa powder, you use hot cocoa mix in the cookie dough. I used this Ghirardelli Double Chocolate mix, because it's really good (not as good as Homemade Hot Cocoa, but definitely a close second).
I used a total of four different kinds of chocolate chips. I just pulled out a bunch of bags that were almost empty and finished them off. I ended up using 3/4 cup of both white chocolate and milk chocolate chips, then 1/4 cup of both bittersweet and semisweet chocolate chips. I loved how each of these cookies was jam packed with a ton of chocolate chips and every bite brought a new combination of chocolates.

I am submitting this for January's What's Baking, hosted by Melissa of I was Born to Cook. This month's theme was Snowday Treats!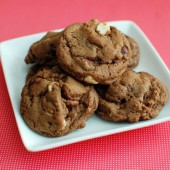 Hot Chocolate Cookies
Ingredients:
3 1/4 cups flour
4 ounces hot chocolate mix (not sugar free)
1 tsp Kosher salt (or 1/2 tsp table salt)
1 1/4 tsp baking soda
1 cup (2 sticks) unsalted butter, room temperature
1 cup sugar
2/3 cup brown sugar
2 eggs
1 tsp vanilla
2 cups of chocolate chips - any variety
Directions:
In a medium bowl, whisk the flour, cocoa mix, salt, and baking soda together. set aside.
In a separate bowl, use a mixer to cream the butter, sugar, and brown sugar until light and fluffy, about three minutes.
Add the eggs and vanilla to the butter mixture and mix until combined.
Add the dry ingredients to the wet, a bit at a time, until incorporated.
Fold in the chocolate chips.
Chill the dough for one hour.
Preheat your oven to 350F. line two baking sheets with parchment paper. drop by rounded teaspoons on about 2 inches apart.
Bake them one sheet at a time, for about 10 minutes. let cool on the sheet for a few minutes before transferring them to a cooling rack to cool completely.
18 Responses to "Browned Butter Cream Cheese Chocolate Chip Cookies"
Leave a Comment