Lemon Pound Cake with Strawberries – Secret Recipe Club
It's time again for the Secret Recipe Club! This month, I was matched up with Feast on The Cheap. This mother-daughter combo serve up tasty meals on the cheap. They include the price per serving for each recipe they post.
I set out to find a recipe to make. As I was reading through their blog, I added stars to multiple recipes. I was very excited to be matched up with another blog I had never read before.
Ever since I made these freezable lemon bars, Hubby has been requesting lemon desserts. (He actually specifically requested lemon meringue pie).
Since I have never made a pound cake (weird, right?), and I was hosting a little get together in honor of Hubby's birthday, I decided this Lemon Pound Cake with Strawberries would be perfect. I especially liked the part of the recipe that said it tastes better after a day or two.
I made the cake on Friday night and served it Saturday night. I don't have a bundt pan, so I just used my tube pan and it worked out just fine. Here is more information about joining the Secret Recipe Club.
One Year Ago: Chickpea and Roasted Red Pepper Salad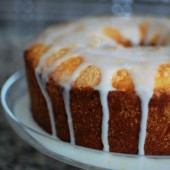 Lemon Pound Cake with Strawberries
Ingredients:
For the Cake
3 cups cake flour
2 tsp baking powder
1 tsp salt
2 Tbsp freshly grated lemon zest
8 ounces unsalted butter (or 1 cup, or 2 sticks), softened
2 cups sugar
5 eggs
1 teaspoon vanilla
½ cup buttermilk
2 Tablespoons fresh lemon juice
Fresh strawberries
For the Glaze
2 cups powdered sugar
3-4 Tbsp fresh lemon juice
2 tsp grated lemon zest (or more, to taste)
Directions:
Preheat the oven to 325 degrees. Butter and flour a 12-cup non-stick Bundt pan, tapping out excess flour.
In a medium bowl, sift together the flour, baking powder, and salt.
In the large bowl of your electric mixer, combine the softened butter with sugar. Beat until light and fluffy. Add eggs, one at a time, beating well after each addition. On low speed, mix in half the flour mixture. Add all of the buttermilk, lemon zest, lemon juice, and vanilla. Mix in the remaining flour, beating only just enough to combine.
Transfer the batter to the prepared pan, smoothing the top with a rubber spatula. Bake for 45 to 55 minutes until top is golden and puffed and a cake tester or toothpick inserted in the middles comes out clean. Cool on a wire rack for 15 minutes. Gently, loosen the sides of the cake from the pan with a narrow spatula and invert it onto a cake stand or platter to cool completely.
Once cooled, combine the glaze ingredients in a medium bowl. Using a wire whisk, combine thoroughly. Pour the glaze over the top of the cake. It will cascade down the sides, and will set nicely once refrigerated. The cake should be refrigerated at least four hours before serving. During the initial fridge time, I periodically spoon what icing has puddled at the bottom of the plate back onto the top of the cake. This creates a very pretty, almost batik-like effect.
Wash, hull and slice the strawberries about an hour or so before serving. Sprinkle with just enough confectioners' sugar to cover, and then give it a good stir. The berries create their own lovely syrup with the assistance of the sugar. Serve alongside the sliced cake.
8 Responses to "Vegan chocolate / banana / caramel cupcakes"
Leave a Comment