Pumpkin Cinnamon Rolls and How to Freeze Cinnamon Rolls
I love homemade cinnamon rolls. I think they might be one of my favorite things to bake. Back in the fall, I got it stuck in my head that I really wanted to make pumpkin cinnamon rolls. If you think of the spices in pumpkin pie, it seems obvious that pumpkin and cinnamon go together really well.
So I set out to find a recipe. There are quite a few out there. But, the last thing Hubby and I need in the house is an entire batch of cinnamon rolls! So I decided I wanted to make some and freeze some for later.
Now over the past few years, I have gotten over my fear of yeast. I'm comfortable using yeast in recipes, but I am not to the point where I mess with recipes containing yeast. I wasn't exactly sure how freezing the cinnamon rolls would affect the yeast in the dough…
Almost as if the people at King Arthur Flour knew about my predicament, I saw this post on their blog about freezing cinnamon rolls. You basically make the cinnamon rolls like the recipe says, but you only bake them for about 15 minutes. Then you take them out of the oven, partially cooked, allow them to cool, then freeze them.
Then, when you want to enjoy your cinnamon rolls, you simply pop them in the fridge to defrost overnight. The next morning, you bake them about 20 minutes and voila – homemade cinnamon rolls in just 20 minutes! The best thing about this method is that you can apply it to any cinnamon roll recipe.
The dough has pumpkin and some spices in it. The filling in these is simply homemade pumpkin pie spice. It really helped to enhance the pumpkiny flavor of the dough. And obviously, I topped these cinnamon rolls with some cinnamon cream cheese frosting. You can't have cinnamon rolls without frosting!
I made the cinnamon rolls on a Saturday and put 8 rolls into two disposable 8″ pans with lids. I popped one into the freezer after they cooled and the other half batch got thrown into the fridge. We enjoyed the batch from the fridge the next morning and the batch from the freezer a couple weeks later. I can vouch that the batch from the freezer tasted just as delicious as the batch from the fridge. This is method is definitely going to be used repeatedly in our house.
Note, as I was contemplating (aka obsessing about) this recipe, I contacted my go-to yeast expert, Bridget about what to do and which recipe I should use. She recommended adapting this pumpkin bread recipe, which is what I used. Since then, she has also posted about pumpkin cinnamon rolls, so feel free to just go straight to that post for her version.
Three Years Ago: Vegan Brownies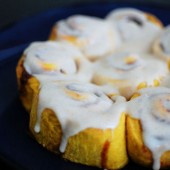 Pumpkin Cinnamon Rolls
Ingredients:
For the Dough
4 1/2 cups bread flour
1 Tbsp instant yeast
1 tsp cinnamon
1 tsp ground ginger
1/4 tsp ground cloves (optional)
1/3 cup sugar
1 1/2 tsp salt
2 eggs
1 3/4 cups pumpkin puree
4 Tbsp butter
For the Filling
3/4 cup light brown sugar
1 1/2 Tbsp ground cinnamon
2 tsp ground ginger
1/2 tsp ground cloves
1/2 tsp ground allspice
1 tsp freshly grated nutmeg
big pinch of cardamom (or you can substitute mace)
1/8 tsp salt
1 Tbsp melted butter
For the Frosting
4 oz cream cheese, at room temp
2 Tbsp butter, at room temp
1/2 tsp cinnamon
2 1/2 cups powdered sugar
2-4 Tbsp milk
Directions:
Mix the flour, yeast, spiced, sugar, and salt in the bowl of a stand mixer fitted with the dough hook. In a large measuring cup, lightly beat the eggs and whisk in the pumpkin and butter. With the mixer on low speed, gradually add the liquid ingredients. Continue mixing on medium-low until the dough is elastic and supple, about 8 minutes. You may need to add a little more flour or water to get the correct consistency – soft but not sticky.
Transfer the dough to an oiled bowl and cover with plastic wrap or a damp dishtowel. Set the dough aside to rise until it has doubled in volume, about 1 1/2 hours.
Make the filling by combining the filling ingredients in a small bowl. Set aside.
Grease two 8" round pans. Turn the dough out onto a lightly floured surface. Using a serrated knife, cut the dough in half.
Set half of the dough aside and roll the other half into a large rectangle around 16"x12". Spread half of the filling onto the dough and roll into a log starting with the long side nearest to you. You may need to use some warm water to seal the edge of the dough. Slice the log into 8 pieces. Repeat with other piece of dough.
Cover with plastic wrap and let rise 1.5-2 hours.
To serve now: Preheat oven to 350. Bake cinnamon rolls 25-30 minutes until lightly browned.
To freeze and serve later: Preheat oven to 325. Bake cinnamon rolls for 15 minutes. Let the buns cool complete in the pan. When they are completely cooled, cover and freeze.
When you are ready to serve the buns, place buns in the fridge to thaw out overnight. The next morning, preheat oven to 350. Bake until buns are light brown, about 20 minutes.
Make the frosting while the cinnamon rolls are baking by beating butter and cream cheese in a stand mixer. Add the cinnamon and mix until smooth. Slowly mix in powdered sugar. Add milk to thin frosting to desired consistency. Frosting can be frozen.
One Response to "Apple-Pumpkin muffins (2 WW pts)"
Leave a Comment