Cranberry Ginger Fizz Cocktail
This past weekend we had a potluck dinner party with friends. Since we had a fall theme, I decided to play around with cranberries. We all provided one food dish and a beverage. And you guys know I was drawn to the pretty pink color of this cocktail.
And the gin. Let's be honest here. Ever since I set out to find my go-to cocktail when I turned 30, I fell in love with the gin and tonic. This cocktail is a combination of a cranberry infused gin, ginger ale, and ice.
I made the cranberry infused gin a day in advance and let it sit in the fridge overnight to really soak up all the flavors of the fruit – cranberry, orange, and lemon. The ginger ale gives a great hint of spice and fizziness from the carbination. This drink is a fun festive cocktail that would be great for any breast cancer awareness meal, Thanksgiving, Christmas, or really any day of the year.
One Year Ago: Halloween Cupcakes using Fondant
Two Years Ago: Boston Lobster Party and Homemade Milky Way Bars
Three Years Ago: Pecan Pie Cookies and Chocolate M&M Cookies
Four Years Ago: Crockpot Keilbasa and Kraut and Pink M&M Treats
Five Years Ago: Crab and Cheese Omelet

Don't forget about my Power of Pink Challenge – make something PINK by the end of the month to raise Breast Cancer Awareness!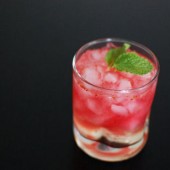 Cranberry Ginger Fizz Cocktail
Cranberry infused gin mixes with ginger ale for a delightful cocktail
Ingredients:
For the Cranberry Simple Syrup
3/4 cup sugar
3/4 cup water
1 cup fresh cranberries
Fruit to Muddle
1 lemon, cut into wedges
1 orange, cut into slices
For the Cocktail
1 1/2 cups gin
1 cup chilled Ginger Ale
4 mint springs
Directions:
For the Cranberry Simple Syrup
Bring sugar and water to a boil in a medium saucepan, stir until sugar is dissolved. Remove from heat; pour off all but one cup of syrup, reserving any extra for another use.
Heat the syrup to a boil and then reduce heat to medium. Add the cranberries and simmer for 2-3 minutes until they just begin to burst. Remove from heat and let cool in syrup.
Muddle with Fruit
Place 2 Tablespoons drained cranberries and 6 Tablespoons cranberry syrup in a large pitcher; add the lemon wedges and orange slices.
Using a muddler or wooden spoon, vigorously mash the fruit.
For the Cocktail
Stir in gin and let steep for at least 5 minutes.
Strain into a medium pitcher.
Fill 4 glasses with crushed ice. Fill about 1/2 full with ginger ale.
Top with cranberry infused gin.
Garnish with mint leaves.
6 Responses to "Cranberry Ice Cream"
Leave a Comment