Chocolate M&M Cookies
October has flown by just like all the other months this year. Here is it the 21st and I still haven't posted a single pink recipe for my Power of Pink Challenge. As a reminder, to participate in the challenge, make something pink and link back to the original post, and you will be entered to win a great pink prize. Be sure to check out the roundup from last year if you need some pink inspiration.
The easiest way to make something pink is to simply decorate it with pink decorations. That's what I did this time around. Pink M&Ms have been around for a few years now and I'm glad they finally have the big bags. I grabbed two from Bed Bath and Beyond a couple weeks ago and threw them in the freezer (frozen M&Ms are the best!) I wanted to make sure I baked with them before Hubby and I worked our way through the frozen M&M a handful at a time… So I set out to make some M&M cookies.
Now, I've done M&M cookies before. I've also done M&M blondies. So I decided to hit up my Google Recipe for a new recipe to try with M&Ms in them. Let me just say, if you like chocolatey cookies, go home and make these tonight. They're very very chocolatey and delicious. I decided to give them to Hubby's sister for her birthday so I wouldn't eat the whole batch.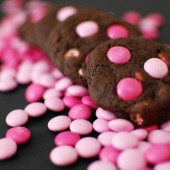 Chocolate M&M Cookies
Ingredients:
2 c. all-purpose flour
3/4 c. unsweetened cocoa powder - I used 1/4 cup dark cocoa powder and 1/2 cup regular cocoa powder
1 tsp. baking soda
1/2 tsp. salt
1 c. unsalted butter
2/3 c. granulated sugar
2/3 c. packed light brown sugar
1 tsp. vanilla extract
2 large eggs
1 c. m&m candies
Directions:
Preheat oven to 350 degrees.
Combine flour, cocoa powder, baking soda, and salt in a bowl. Whisk to combine and set aside.
Beat butter, sugars, and vanilla in large mixing bowl until creamy. Add eggs, one at a time, beating well after each addition.
Gradually beat in flour mixture in two or three additions. Mixture will be quite thick. Stir in m&m pieces with a wooden spoon (I let my KitchenAid mixer do all the work there). Drop by large rounded tablespoons onto ungreased cookie sheets *see note below*. Bake for 9 minutes. Cool on baking sheet for 1 minute, then transfer to wire cooking rack.
A note about these cookies. For the first dozen that went into the oven, I just used my cookie scoop. One of those cookies is shown on the left in the picture below. Not too pretty and they didn't expand very much at all.
So for the next dozen, I decided to portion the dough out with the scooper and then roll it into a ball. One of those cookies is shown in the middle. Those didn't expand much either, but had a smoother finish.
For the last 1.5 dozen, I portioned the dough with the scooper, rolled it into a ball, then flattened it with the bottom of a wet glass and pressed 3 M&Ms into the top. You can see on the right that these cookies spread quite a bit more and they look prettier. I like the contrast between the dark chocolate cookie dough and the colorful M&Ms.
Long story short, my recommendation is roll the dough with your hands, then flatten it, and press 3 M&M into the top of the dough like I did to yield the cookie on the right.
As a reminder, don't forget to enter in my autographed Alton Brown cookbook giveaway.
5 Responses to "Eclairs – Daring Bakers"
Leave a Comment