Pecan Pie Cookies
As I mentioned the other day, I sent some cookies to a friend of mine from high school who is currently stationed over in Afghanistan as part of Operation Baking Gals (be sure to check back in Dec, I plan to lead another team). One thing that Jon mentioned that he loves is pecan pie. I obviously couldn't ship a pie to him, so I hit up Google in an effort to find a pecan pie cookie.
Sure enough, I found a recipe quite easily and it looked pretty tasted. I whipped these up and Hubby and I both agreed they taste just like you would expect from a cookie form of pecan pie. They came together easily and once the dough is chilled, you just make them like thumbprint cookies and add a dollop of the filling. These would be great at any holiday gatherings coming up this year. And they freeze well too!!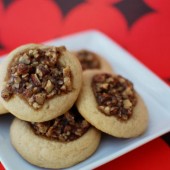 Pecan Pie Cookies
Ever wanted to make pecan pie in a more portable form? These cookies taste just like pie, but you can send them in the mail!
Ingredients:
For the Cookies
1 cup firmly packed brown sugar
3/4 cup butter, softened
1 egg
1 tsp vanilla
2 cups all-purpose flour
1 tsp baking powder
For the Filling
1 cup chopped pecans
1/2 cup firmly packed brown sugar
1/4 cup whipping cream
1 tsp vanilla
Directions:
Heat oven to 350°F. Combine all cookie ingredients except flour and baking powder in large bowl. Beat at medium speed until creamy. Reduce speed to low; add flour and baking powder. Beat until well mixed. Chill the dough in the fridge for an hour.
Shape dough into 1 1/4-inch balls. Place 2 inches apart onto ungreased cookie sheets. Make indentation in each cookie with thumb; rotate thumb to hollow out slightly.
Combine all filling ingredients in small bowl; fill each cookie with 1 rounded teaspoon filling. Bake for 8 to 12 minutes or until lightly browned. Cool 1 minute; remove from cookie sheets.
7 Responses to "Operation Baking Gals – Round 17 Is Open for Registration!"
Leave a Comment