Blueberry Basil Goat Cheese Cake Bars
When the theme for this month's What's Baking was annouced to "Bake something with Fresh Herbs", I knew I wanted to make something with basil in it. You see, I'm not a huge fan of basil, so I figured I'd challenge myself to find a way to like it. I realize basil is a pretty harmless herb and no where near as offensive as cilantro is to some people, but it's just not my favorite.
I tossed around a few ideas in my head and remembered this Blueberry Basil Goat Cheese Pie that Shannon posted a while ago. I starred it in my Google Reader and have had the best intentions to make it. But I don't really like baking pies so it just hasn't happened yet.
I liked the ideas of pairing blueberries with goat cheese and basil though, so I decided to mix those flavors into a dessert format that I prefer – bars. I found a recipe for some Blueberry Cheesecake Bars and just doctored it up by adding basil, swapping out half of the cream cheese for goat cheese, and using homemade blueberry sauce instead of store-bought blueberry jam.
When I was trying to figure out how much basil to add to these bars, I remembered these Strawberry Peach Basil Bars. When I made them last year, the basil flavor really wasn't very prominent after baking the bars. So I decided to put a LOT of basil in the bars. So much so, that the basil flavor slightly dominated these bars. I've reduced the amount of basil in the recipe below to reflect this.
I loved this flavor combination but some of Hubby's coworkers would call the flavors intriguing… The bars were borderline savory with the addition of the goat cheese. Feel free to play around with the amount of goat cheese vs cream cheese in the recipe. If you like the flavor of goat cheese, go with the full 8 oz. If you're not a huge fan of goat cheese, you can use all cream cheese, or some combination between.
I am submitting this for June's What's Baking, hosted by Jillian of JBean Cuisine. This month's theme was to Bake with a Fresh Herb!
One Year Ago: Herbed Goat Cheese Stuffed Strawberries and Chocolate-Chocolate-Chocolate-Chocolate-Chocolate Cupcakes (aka, Quintuple Chocolate Cupcakes)
Two Years Ago: Chocolate Mousse Cupcakes and Homemade Coleslaw
Three Years Ago: Goat Cheese and Roasted Red Pepper Toasts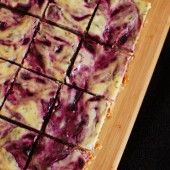 Blueberry Basil Goat Cheese Cake Bars
Blueberry, Basil and Goat Cheese make a great pairing in these surprising bars
Ingredients:
For the Cookie Crust
1 3/4 cups flour
1/2 cup powdered sugar
1/2 tsp salt
1 cup (2 sticks) chilled unsalted butter, cut into small pieces
1 tsp ice water
Cheesecake Filling
8 ounces softened cream cheese
8 ounces softened goat cheese
1/2 cup sugar
1 tsp vanilla
2 eggs
1 cup blueberry jam, or homemade blueberry sauce
3/4 cup finely chopped basil
Directions:
Preheat oven to 350 degrees F. Grease a 9x13 inch pan.
In the bowl of a mixer, combine flour, sugar, and salt. Stir on lowest setting. Add butter and continue to stir until the dough forms a ball. Add cold water if the dough is not coming together.
Press dough evenly over the bottom of the prepared pan. Bake until crust is lightly golden, about 20 minutes. Let cool for 30 minutes.
While cooling, prepare filling. Mix softened cream cheese, goat cheese, sugar and vanilla until well blended.
Add eggs and mix just until eggs are incorporated.
Stir in chopped basil.
After crust cools for 30 minutes, pour cheesecake filling evenly over the crust.
Spoon blueberry jam or sauce randomly on top of filling and then swirl to combine.
Bake at 350 for approximately 35-45 minutes or until center is set. Allow to cool in pan.
3 Responses to "Roasted Carrots with Thyme and Goat Cheese"
Leave a Comment