Chocolate-Chocolate-Chocolate-Chocolate-Chocolate Cupcakes (aka, Quintuple Chocolate Cupcakes)
Last week I had quite a few people ask me if Hubby or someone else was going to bake for my birthday. As someone who LOVES to bake, I really don't mind baking my own cake (although the cake Hubby baked for me last year was amazing!). It's an excuse to go all out and make a cake (or cupcakes) that's totally over the top.
I had originally set out to make chocolate cupcakes filled with salted caramel and topped with ganache. But the first batch of chocolate cupcakes didn't turn out and I was just too frustrated to continue with that idea. I needed to come up with something else for my birthday, but I'm sure I'll go back to the salted caramel cupcake idea at some point.
I was perusing my Google reader's cupcake tag and I saw these banana split cupcakes. Hello, beautiful! With those cupcakes as my inspiration, I came up with these quintuple chocolate cupcakes.
They start with an amazing chocolate cupcake. Next comes a swirl of chocolate cream cheese frosting. Then the cupcakes get dipped in a chocolate sauce and chocolate sprinkles. Last, another swirl of chocolate cream cheese frosting is added on top. These cupcakes were definitely over the top, super chocolatey, and the perfect cupcake to celebrate my birthday!
One Year Ago: Chocolate Mousse Cupcakes and Homemade Coleslaw
Two Years Ago: Goat Cheese and Roasted Red Pepper Toasts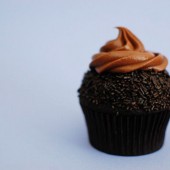 Quintuple Chocolate Cupcakes
Ingredients:
For the Quintuple Chocolate Cupcakes
12 chocolate cupcakes, recipe below
1 batch chocolate cream cheese frosting, recipe below
1 batch chocolate dipping sauce, recipe below
1 cup chocolate sprinkles (or jimmies, if that's what you call them)
For the Chocolate Cupcakes
2 oz unsweetened chocolate, chopped
1/4 cup Dutch-process cocoa powder
1 cup sugar
1/2 cup (1 stick) butter, cut up
1/3 cup water
1/2 cup milk
1 egg
1 egg yolk
1/2 tsp vanilla
1 cup flour
1 tsp baking powder
1/2 tsp baking soda
1/2 tsp salt
For the Chocolate Cream Cheese Frosting
8 oz cream cheese, at room temperature
1 stick unsalted butter, at room temperature
1/4 tsp salt
1 tsp vanilla
3 cups powdered sugar, sifted
3 ounces unsweetened chocolate, melted
For the Chocolate Dipping Sauce
4 oz dark chocolate, chopped
2 Tbsp heavy cream
4 Tbsp powdered sugar
5-8 Tbsp water, warm
Directions:
For the Quintuple Chocolate Cupcakes
Bake the cupcakes and allow to cool completely in the pan. While the cupcakes are cooling, make the frosting.
Once completely cool, using a fat round tip, pipe a swirl on top of each cupcake. Place the entire tray of cupcakes in the freezer so the frosting will not melt while dipping it.
While the cupcakes are in the freezer, make the chocolate dipping sauce and allow it to come to room temperature.
Pour the chocolate dipping sauce into a small bowl (I used my 1-cup round tupperware bowls). You want it to be just larger in diameter than a cupcake, and fairly deep. Place the sprinkles in another similarly sized bowl.
Dip the cupcakes into the chocolate sauce until all the frosting is covered. Then add an edge of sprinkles by holding the cupcake sideways in the sprinkles and rotating until all sides are covered with sprinkles. Alternatively, you could just dip the whole thing in sprinkles if you want.
Place entire tray of cupcakes back in the freezer for the chocolate to set up.
Now using a fat star tip, pipe a smaller swirl on top of the cupcake. Store in the refrigerator.
For the Chocolate Cupcakes
Line a standard 12-cup muffin tin with paper liners.
In a heatproof bowl, combine chocolate and cocoa powder.
In a saucepan over medium heat, heat the granulated sugar, butter, and water, stirring occasionally, until the butter melts and the sugar dissolves. Pour the butter mixture over the chocolate and whisk until the chocolate melts and the mixture is smooth.
Whisk the milk, egg, extra yolk, and vanilla into the chocolate mixture until combined.
In a bowl, stir the flour, baking powder, baking soda, and salt until blended. Add the flour mixture to the chocolate mixture and whisk until smooth.
Let the batter sit at room temperature for 1 hour or cover and refrigerate for up to 3 days.
Set the oven at 350 degrees.
Divide the batter among the muffin cups. Bake for 30 minutes or until the tops spring back when pressed lightly with a fingertip. Set on a wire rack and leave to cool completely.
For the Chocolate Cream Cheese Frosting
Using a handheld electric beater, cream the cream cheese and butter together thoroughly.
Add the salt, vanilla, and powdered sugar.
Finally, mix in the melted chocolate and blend thoroughly until smooth.
For the Chocolate Dipping Sauce
Place chocolate and heavy cream in a bowl over simmering water. Let chocolate and cream sit for 2-3 minutes to melt without stirring. Slowly stir mixture to combine.
Add powdered sugar and mix to combine. Add water 1 tablespoon at a time, mixing after each addition until pouring consistency is reached. Set aside and let sauce cool to warm.
12 Responses to "S'mores Brownies"
Leave a Comment