Herbed Goat Cheese Stuffed Strawberries
Sometimes the most simple dishes are the most impressive. These strawberries are so simple to put together and everyone loves them! The combination of goat cheese and strawberries is surprisingly amazing.
I hosted a little get together recently and added these strawberries to the menu. I went for the super simple approach and just used the herbed goat cheese you can buy from the store instead of mixing in my own herbs.
I also cut off the tips of the strawberries so they'd stand up. I saw someone do that for cheesecake stuffed strawberries and loved the idea.
One Year Ago: Homemade Chicken Broth and Veggie Chicken Soup in the Crockpot and PB&J Omelet
Two Years Ago: Mounds Cupcakes and Crockpot French Dip Sandwich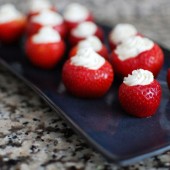 Herbed Goat Cheese Stuffed Strawberries
Ingredients:
1 pt. fresh strawberries
4 oz herbed goat cheese
2 Tbsp cream (or milk)
1/2 tsp grated lemon zest
Salt and pepper to taste
Directions:
Wash and hull strawberries. Cut off a tiny portion of the tip of the strawberry so that they can stand up.
In a small bowl, combine goat cheese, lemon zest, and just enough cream to make the goat cheese creamy. Salt and pepper to taste. Allow the cheese to come to room temperature.
Using a piping bag, pipe the goat cheese into the center of the berries. Alternatively, you can use a spoon to stuff the berries.
Serve at room temperature.
Recipe adapted from The Small Boston Kitchen
23 Responses to "Raspberry Meringue Cookies"
Leave a Comment