Homemade Coleslaw
Cole slaw is hands down one of my favorite side dishes. It's really random, but I just love cole slaw. I don't actually eat coleslaw very often because I'm just not around it much. But in the summertime, it makes an appearance at many cookouts, which I appreciated. I think it's perfect next to a grilled burger or brat and even better on a pulled pork sandwich.
Until this year, I had never even thought to make my own coleslaw. Not sure why, but the thought never crossed my mind. Granted, I never buy coleslaw either. I'm pretty sure I could down a container in a stomach aching amount of time. So it's probably better that I never thought to make coleslaw before…
I've made this recipe 3 times already. Every time, it's a huge hit. It is the perfect coleslaw. And, it's so simple to throw together. I like to mix up the dressing ahead of time and then mix it with the cabbage about an hour before it is going to be served.
One Year Ago: Goat Cheese and Roasted Red Pepper Toasts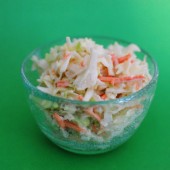 Homemade Coleslaw
Ingredients:
1/2 cup mayonnaise
2 Tbsp sugar
1 Tbsp Dijon Mustard
1 tsp honey
16 oz bag of coleslaw mix
Directions:
In a small bowl, combine all of the ingredients except the coleslaw mix. (This can be done in advance, simply cover and refrigerate until ready to use).
Place the coleslaw mix in a large bowl. Pour the dressing over the coleslaw mix. Stir to combine and serve immediately or refrigerate until ready to serve.
2 Responses to "Rice and Beans"
Leave a Comment