Pimento Cheese Burger
Today I'm participating in my second virtual baby shower of the week. Today's baby shower is for Erin from Erin's Food Files, which is being hosted by Jessica from The Novice Chef. Erin is also due in a few weeks and since she lives Nashville, the theme for the shower is Southern food.
I'll be the first to admit, I know very little about Southern food. I had no idea where to start. Erin was the first one to introduce me to cheesecake cakes (it all started with Lincoln's Cake, which I also made. Since then she's made a peanut butter-chocolate, and Oreo version and I've made a carrot cake and Neapolitan version), so I was originally thinking I'd do a cheesecake cake…
Then Erin posted these Pimento Cheese Deviled Eggs last week. For whatever reason, I just could not get them out of my head. You all know I grew up in the Midwest and live in Boston. I've never had pimento cheese. I'm not even sure if I've ever seen it. Thanks to Google, I found out that pimento cheese is a mixture of mayo, cheddar cheese, sometimes cream cheese, and pimentos.
As I kept trying to force myself to come up with a Southern dessert to make for the shower, my curiosity kept bringing me back to the idea of pimento cheese. There was another detail that stuck out from Erin's post last week. She mentioned pimento goat cheese. Everything fell in to place the other night when Hubby requested turkey burgers for dinner. We regularly put goat cheese and spinach on our turkey burgers, so at that moment this Pimento Cheese Burger idea was born!
I have no idea how authentic this pimento goat cheese is, but I do know it's delicious. The tangy goat cheese pairs beautifully with the sweetness of the pimentos. I decided to add a couple thin slices of a tart green apple to cut the salty creaminess from the cheese mixture. This burger was a home run and I'll definitely be making some more of the pimento goat cheese in the future. I really enjoyed snacking on extra apple slices dipped in the cheese mixture. It would make a perfect appetizer!
Congrats to Erin on the upcoming bundle of joy! To see the other items made for Erin's virtual shower, be sure to check out the roundup on The Novice Chef.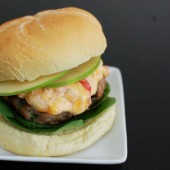 Pimento Cheese Burger
Pimento goat cheese adds a great deal of flavor to these turkey burgers
Ingredients:
For the Pimento Goat Cheese
2 oz goat cheese, at room temp
2 oz chopped pimentos (drained if using canned pimentos)
2 oz colby jack cheese, shredded (~1/2 cup)
For the Turkey Burgers
1 pound lean ground turkey
1 half large red onion, chopped
2 cloves of garlic, minced
salt and pepper to taste
olive oil
For Serving
5 Hamburger buns
spinach leaves (optional)
1 Granny Smith apple, thiny sliced
Directions:
For the Pimento Goat Cheese
In the bowl of a food processor or stand mixer, combine all ingredients. Mix on medium until well combined. Set aside or make ahead of time and store in the fridge.
For the Turkey Burgers
Combine the onion, ground turkey, garlic, salt and pepper in a bowl.
Combine thoroughly without over handling.
Shape into 5 patties.
Heat up grill pan or grill. Add oil to lubricate grill pan/grill.
Cook until juices run clear.
For Serving
Toast buns on the grill or under the broiler.
If using a grill, spoon ~1.5 to 2 Tbsp of the Pimento Goat Cheese onto each burger during the last few minutes of cooking so the cheese melts.
If cooking indoors, spoon ~1.5 to 2 Tbsp of the Pimento Goat Cheese onto each burger and place grill pan under broiler for 2-3 minutes until cheese melts.
Place a few spinach leaves on the bottom bun then top with turkey burger with melted cheese. Add 2-3 thin slices of apple and the top bun.
3 Responses to "Roasted Carrots with Thyme and Goat Cheese"
Leave a Comment