Strawberry Peach Basil Bars
Some ingredient combinations make people a bit skeptical when you mention them. But then, they bite into whatever it is you made and they completely forget about their doubts.
These bars definitelay have that reaction. I love basil in desserts (and cocktails), and I've had this combination before in these Strawberry Peach Basil Cupcakes. So, clearly, I had no doubt these bars would be amazing.
I actually started with this Blueberry Crumb Bar recipe, but I was multi-tasking while the ingredients were in the mixer, so the crumb mixture turned into a dough. No worries though, the bars still came out amazing. My favorite bites were the ones with a lot of basil and I decided the next time I make these, I'll bump up the amount of basil in them.
One Year Ago: Homemade Oatmeal Cream Pies
Four Years Ago: Cookies and Cream Cupcakes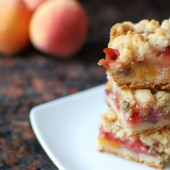 Strawberry Peach Basil Bars
Ingredients:
For the Dough:
3 cups flour
1 cup sugar
1 tsp baking powder
1 cup butter, cold
1 egg
1/4 tsp cinnamon
1/4 tsp salt
For the Filling:
3 cups peeled, diced peaches
2 cups diced strawberries
1/4 cup basil, chiffonaded
Juice of one lemon
1/2 cup flour
1/2 cup sugar
1/2 tsp ground cinnamon
1/4 tsp cardamom
1/4 tsp salt
Directions:
Preheat the oven to 375 degrees F (190 degrees C). Grease a 9x13 inch pan.
For the Dough: In a medium bowl, stir together 1 cup sugar, 3 cups flour, and baking powder. Mix in salt and cinnamon, if desired. Use a fork or pastry cutter to blend in the shortening and egg. Dough will be crumbly. Pat half of dough into the prepared pan.
For the Filling: In medium bowl, gently toss diced peaches and lemon juice together; set aside.
In a separate small bowl, whisk together the flour, sugar, salt, cinnamon and nutmeg. Pour over the peaches and mix gently.
Spread the filling evenly over the crust. Crumble the remaining dough over the filling layer.
Bake in preheated oven for 45 minutes, or until top is slightly brown. Cool completely before cutting into squares.
11 Responses to "Spice Apple Bars"
Leave a Comment