Chocolate Goat Cheese Mousse Tart
This week has been crazy busy. Between my baby sister graduating high school and my blog going down for the day yesterday, add on top of that our normal work load and being out of town last weekend and next weekend, I'm ready for a break. Luckily, this weekend our trip is to visit friends and spend time on the lake. It's exactly what I need at this point.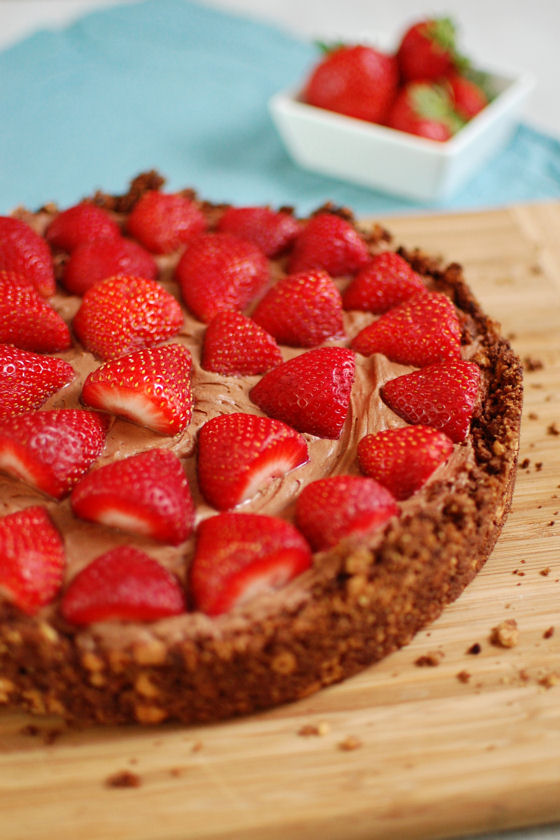 Early June is one of my favorite times of the year for a couple of reasons. First of all, it's my birthday month. Yes, I'm one of those obnoxious people who expect you to care that one day out of the entire month is my birthday. Lucky for me, Hubby humors me and lets me talk about my birthday month like it's completely normal. What would I do without him?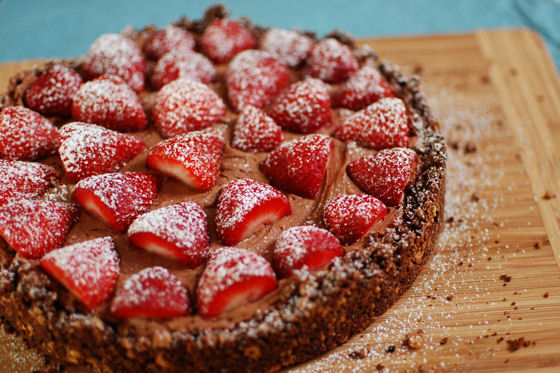 Second, it's strawberry season. I *wish* I could live in a part of the world where strawberry season lasted months. But around these parts, it's only a few precious weeks in June. Hubby and I haven't found anywhere to strawberry pick yet this year (recommendations anyone?), but I've been enjoying the strawberries that come in our CSA box every week.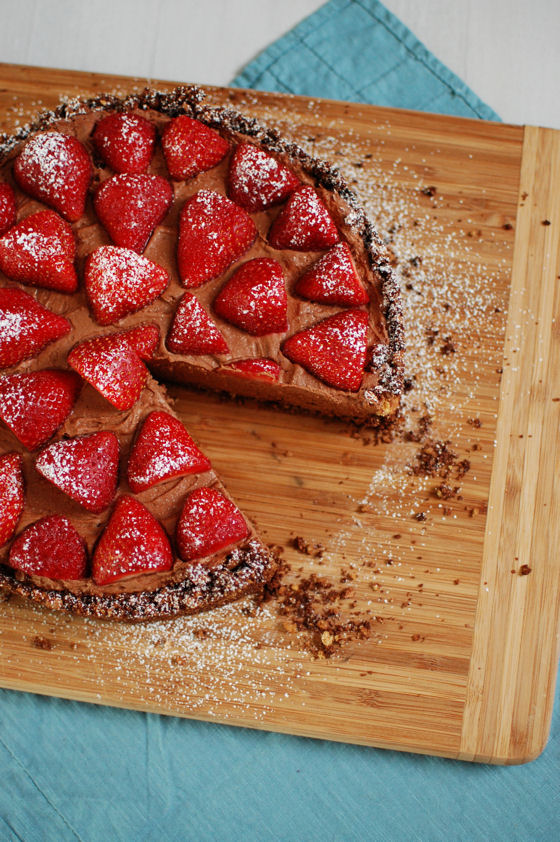 The majority of our strawberries are being eaten straight up. The other night we threw some angel food cake on the grill and topped it with strawberries. It was amazing.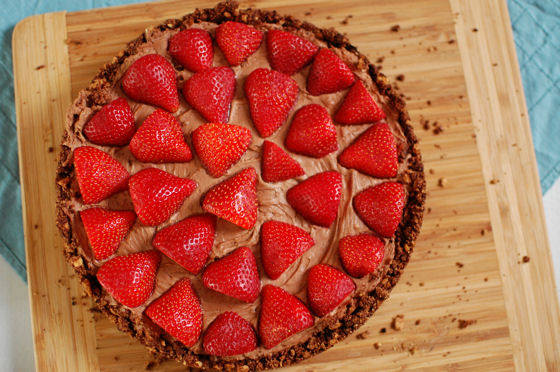 And, of course, I always bake with strawberries during strawberry season. I have posted quite a few strawberry recipes in the past 5+ years. This chocolate goat cheese mousse tart might be one of my favorites of all time.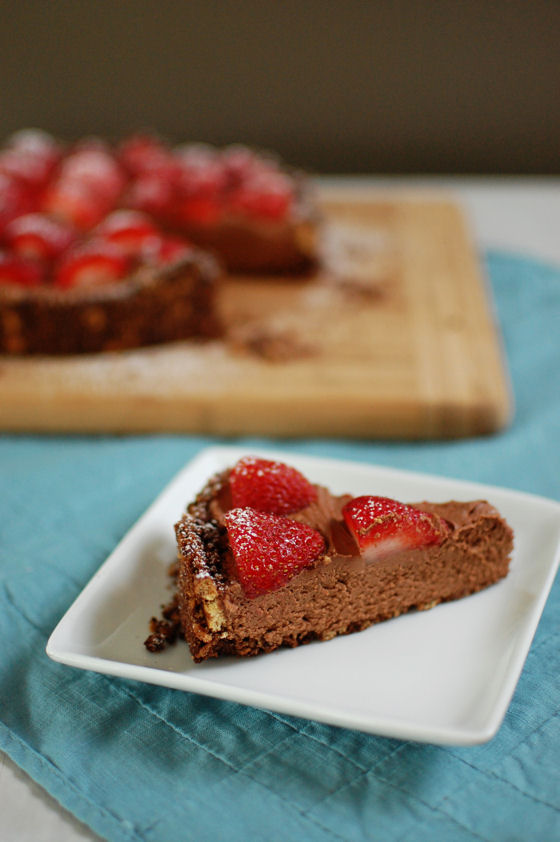 It starts with a chocolate graham cracker crust. Next up comes a silky chocolate mousse. The original recipe used all cream cheese, but I threw in half goat cheese, half cream cheese. I know strawberries and goat cheese pair together nicely and who doesn't love a little tanginess in their dessert? Last, but definitely not least, fresh strawberries top off this dessert. It's seriously a winner and I think you should make it this summer.
Two Years Ago: Challah Bread and Freezable Lemon Bars
Three Years Ago: Strawberry and Spinach Salad and Strawberry and Blueberry Jam
Four Years Ago: It's an Appliance Party! and Turkey Chili
Five Years Ago: Deceptively Delicious Brownies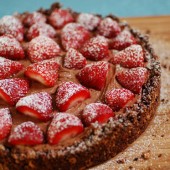 Chocolate Goat Cheese Mousse Tart
Goat cheese provides a great tanginess that compliments the chocolate and strawberries. If you don't like goat cheese, just use 8 oz of cream cheese and eliminate the goat cheese.
Ingredients:
For the Crust
1 1/2 cups graham cracker crumbs
1/4 cup unsalted butter, melted
2 Tbsp cocoa powder
For the Filling
1 cup whipping cream
4 oz cream cheese, softened
4 oz goat cheese, softened
2/3 cup sugar
1/2 tsp vanilla
200 gram dark chocolate, melted and cooled slightly
10 fresh strawberries, halved
2 Tbsp powdered sugar
Directions:
Preheat over to 350F. Grease a 9-inch pie dish.
To prepare crust, mix graham cracker crumbs, melted butter and cocoa powder in a small bowl, and mix until a moist yet crumbly mixture forms.
Firmly press the mixture into the bottom and sides of the pie dish.
Bake for 10 minutes. Let cool completely on a wire rack.
To prepare filling, in the bowl of a standing mixer fitted with the whisk attachment, beat the cream until it holds firm peaks. Remove cream from bowl and keep cold in fridge.
In the same bowl, use a paddle attachment, beat cream cheese and goat cheese until it's soft and creamy.
Add sugar, vanilla, and melted chocolate, continue beating until combined.
Gently fold 1/3 of the whipped cream into the cream cheese mixture to lighten the mixture, then add the remaining cream and continue folding until incorporated.
Pour the cream mixture in the cooled crust. Smooth the top with a spatula. Arrange strawberries on top of the pie.
Refrigerate the pie until set, about 3 hours, or preferably overnight.
Sprinkle powdered sugar on top of the pie before serving.
7 Responses to "Pretzel Chocolate Chip Cookies"
Leave a Comment