Spinach and Strawberry Salad
After the baked deliciousness of yesterday, today I've got a healthy savory way to use up fresh strawberries. Feel free to customize this recipe based on what you have on hand and what you enjoy. I actually really like to add some crumbled goat cheese to this salad, but didn't have any on hand the other day when I took the pictures…
As with all salad recipes, the quantities listed below are just what I used the other day when I was measuring the ingredients out. Usually, I just throw a bunch of things together in a bowl and call it a day.
Two Years Ago: Goat Cheese and Spinach Turkey Burgers
Check out my entire week of Strawberry recipes here.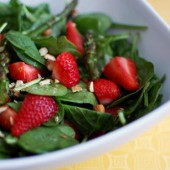 Spinach and Strawberry Salad
Ingredients:
1 bundle asparagus
1 Tbsp olive oil
salt and pepper to taste
6 oz baby spinach
1 cup strawberries, hulled and quartered
1/4 cup chopped nuts
1 oz crumbled goat cheese
1 Tbsp olive oil
2 Tbsp balsamic vinegar
Directions:
Preheat oven to 400. Line a baking sheet with aluminum foil to avoid a mess. Drizzle 1 Tbsp olive oil over asparagus. Use your hand to stir it up so all the asparagus gets coated. Sprinkle with salt and pepper. Roast in oven for 15 minutes, stirring once in the middle.
Allow asparagus to cool to room temperature and slice into ~2" pieces.
Mix the vinegar and 1 Tbsp of olive oil. Add the nuts, strawberries, and asparagus. Toss to coat and add the spinach. Sprinkle cheese on salad just before serving.
2 Responses to "Indian Spinach and Chickpeas"
Leave a Comment