Coconut Chocolate Chip Bars
Chocolate and coconut is one of my all-time-favorite flavor combinations. When I saw this recipe, it reminded me of a coconuty combination of chocolate chip cookie bars and gooey bars, so I knew I had to try it out.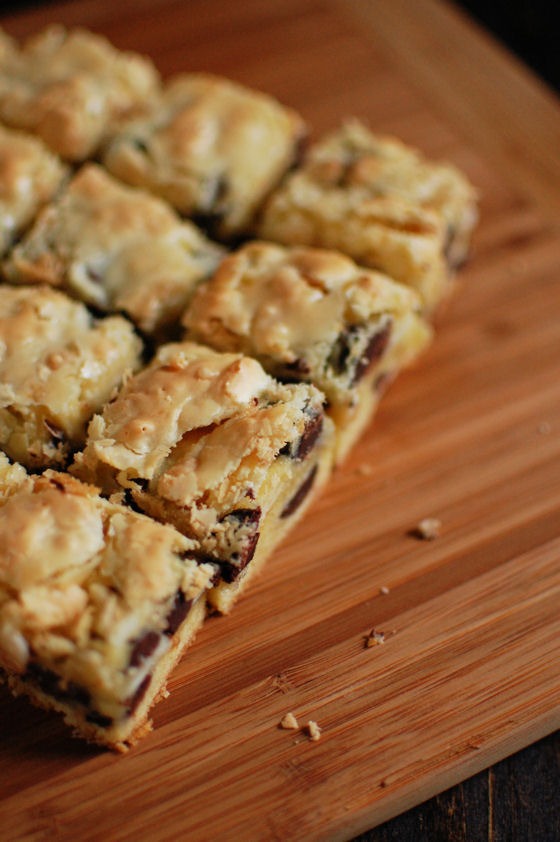 I really enjoyed the fact that the coconut was present, but not overpowering. I love the texture the flaked coconut gave to these bars. Now I know some people are not fans of coconut. It's kind of like cilantro. Some people love it, others, not so much.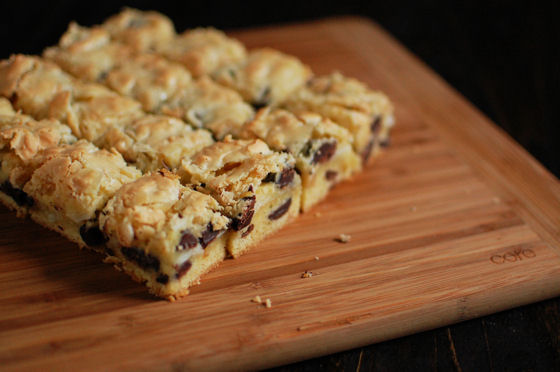 I took these bars to a friend's house for a cookout. Luckily no one there was a coconut hater. Or if they were, they didn't say anything about it. Store these bars in the fridge, but let them come to room temperature a bit before serving them.
One Year Ago: Patriotic Quake Cake
Two Years Ago: White Bean and Avocado Sandwich
Five Years Ago: Inside Out Stuffed Peppers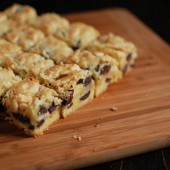 Coconut Chocolate Chip Bars
Ingredients:
For the Base
1 cup plus 2 tablespoons all-purpose flour
1/2 teaspoon baking powder
1/4 teaspoon baking soda
1/4 teaspoon salt
3/4 cup sugar
4 tablespoons butter, softened
1 egg
1 egg yolk
1 teaspoon vanilla
1/2 cup chocolate chips
For the Topping
4 ounces cream cheese, softened
4 tablespoons butter
1 egg
1/4 cup all-purpose flour
1/2 teaspoon vanilla
2 cups powdered sugar
1/2 cup crisp rice cereal
1/2 cup shredded coconut
1/2 cup chocolate chips
Directions:
Heat the oven to 350 F and spray an 8×8-inch baking pan with non-stick spray.
In the work bowl of a stand mixer fitted with the paddle attachment, or in a large bowl with a hand mixer, combine the flour, baking powder, baking soda, salt, sugar, butter, egg, egg yolk, and vanilla. Mix until it just forms a cohesive mass then add the chocolate chips and stir until they are evenly distributed. Press this mixture evenly into the prepared pan.
In the same bowl combine the cream cheese, butter, egg, flour, vanilla, and powdered sugar. Mix until very smooth and creamy, then stir in the crisp rice cereal, coconut, and chocolate chips until well mixed.
Spread the cream cheese mixture evenly over the base then bake for 25 to 35 minutes, or until the topping is golden brown all over, puffed, and just set at the edges while the center is still just a little wobbly. Cool completely in the pan then chill for at least two hours. Once chilled run a thin knife around the edges of the bars and turn out of the pan. Cut into squares.
13 Responses to "Maple Syrup and Birthday Cupcakes"
Leave a Comment