Oreo Cream Cheese Swirl Bars
Oreos make everything more indulgent. Cream cheese has the same affect. Imagine the super-indulgence of adding them BOTH to a brownie recipe. Yea, it's pretty much like heaven.
I cut these brownies really small because they are so deliciously rich. The layer of cream cheese is awesome smothered between the two layers of Oreo brownies. And I like how they look like Oreos. The dark brownie batter sandwiches the white cream cheese layer just like an Oreo cookie!
I found this brownie batter to be extremely thick. This made it difficult to make swirls with the super creamy cream cheese layer. I think I made it work, but it was difficult. Also, be sure to let these cool completely. And store them in the fridge. They get all gooey and super soft when they come to room temperature. They still taste great, but I prefer the texture when they're cold straight from the fridge.
Two Years Ago: Baked Eggplant Chips
See all of my Week Of Oreo Recipes here.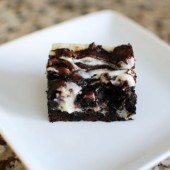 Oreo Cream Cheese Swirl Brownies
Ingredients:
1/2 cup unsalted butter
3/4 cup granulated sugar
1 package (8 oz) cream cheese, softened
3/4 cup confectioners' sugar
2 teaspoons vanilla extract
1 cup flour
1/2 cup unsweetened dark cocoa powder
1/2 teaspoon salt
2 eggs
1 1/3 cups coarsely chopped Oreo cookies
Directions:
Preheat oven to 350 degrees F. Line an 8x8-inch square baking dish with foil; coat foil with cooking spray.
Melt the butter in a small saucepan, over medium heat. Whisk in sugar and bring to a boil, whisking frequently; boil 1 minute. Set aside to cool for 5 minutes.
In a small mixing bowl, using a mixer on medium speed, beat together cream cheese, confectioners' sugar and vanilla extract, until well combined, about 1 minute.
In a medium sized mixing bowl, sift together flour, cocoa powder and salt; whisk until combined.
In a large mixing bowl, whisk together eggs, until combined. Whisk in melted butter-sugar mixture until well combined. Stir in flour mixture until just combined, followed by Oreo cookies.
Spread half of brownie batter into baking dish, followed by cream cheese layer; dot the top with remaining brownie batter, and spread evenly, as best as you can. Run a knife through batter to make "swirls".
Bake at 350 degrees F, for 23-28 minutes.
Cool on a wire rack to room temperature before slicing. Lift foil out of baking dish, and slice. For easier slicing, try freezing the brownies for 30-60 minutes.
13 Responses to "Chocolate M&M Cookies"
Leave a Comment