Creamy Red Pepper and Collard Greens Dip
Even though the Superbowl is right around the corner, I'm just not that in to it this year… Maybe it's because I don't care about either of the teams playing. Maybe it's because with the move I've been distracted and haven't been into football much at all this year…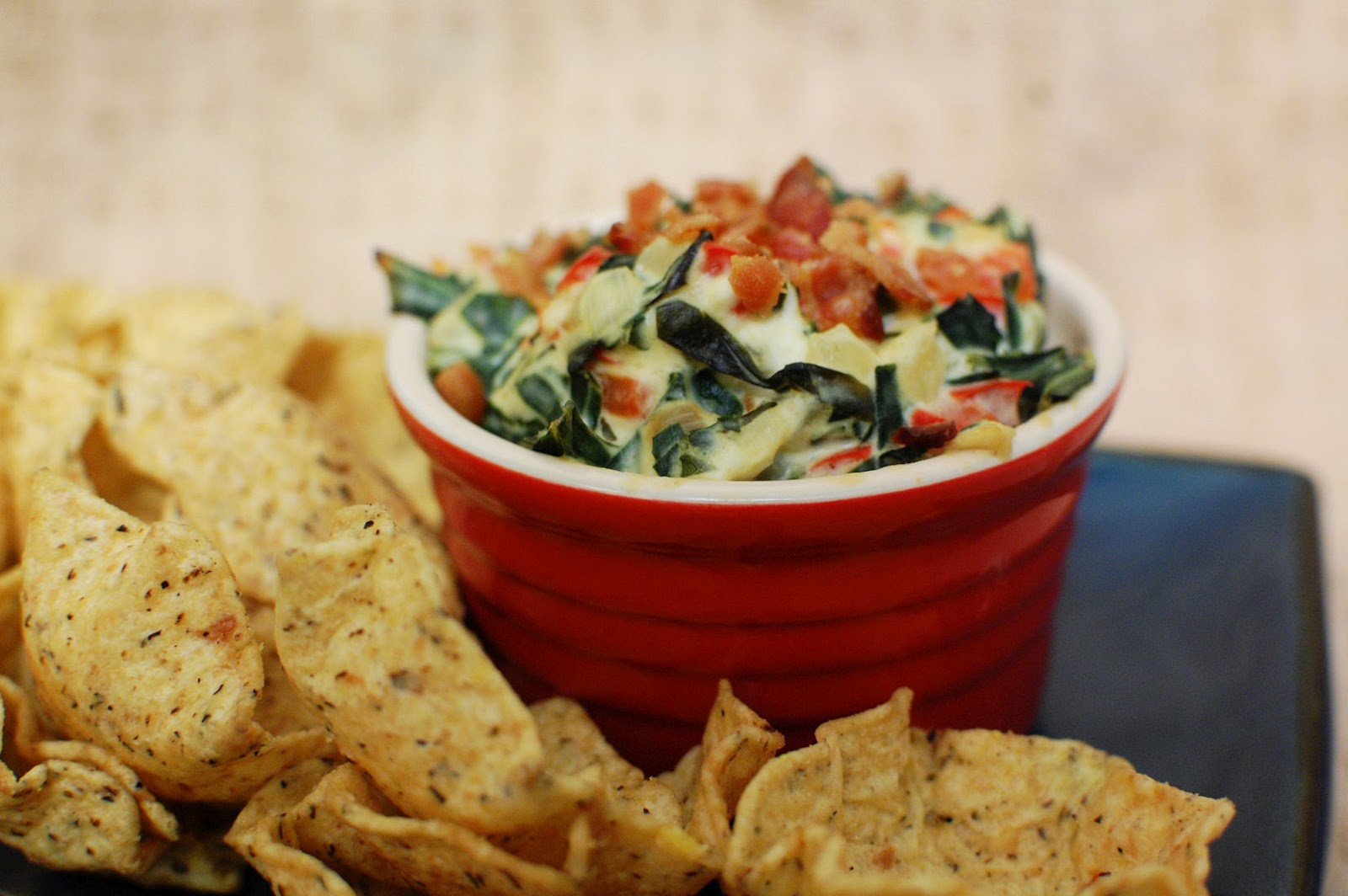 Not really being in to the GAME, doesn't mean I'm not in to the food associated with the big game. Football food is one of my favorites. It's all snacky and portable and indulgent. Take this dip for example. It can be made ahead of time then just heated when you get to your Superbowl party. And, it's unique enough to stand out from the array of buffalo chicken dip, caramelized onion dip, and whatever other dips are on the spread.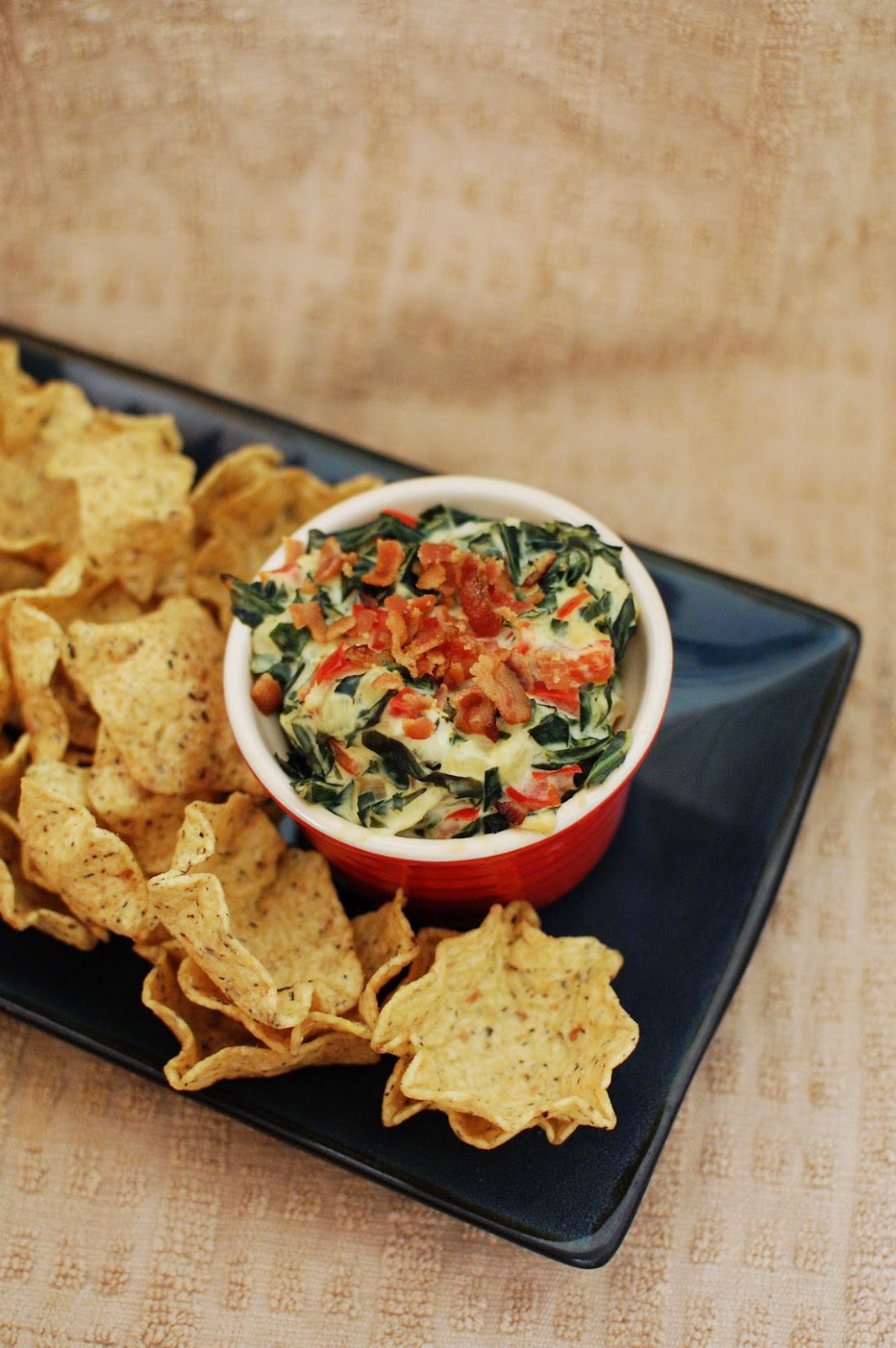 Depending on the size of the gathering you're going to, I like to serve this in individual ramekins. A couple people can share one little dish and it works perfectly for smaller football watching gatherings.
One Year Ago: White Chocolate Frito Popcorn and Mini Roast Beef, Goat Cheese, and Radish Sandwiches
Two Years Ago: Oatmeal Chocolate Cinnamon Cookies and Mini Whole Wheat Bagels
Three Years Ago: Butternut Squash and Spinach Casserole
Four Years Ago: Chicken Wings
Five Years Ago: White Chocolate Mocha Cupcakes and White Chocolate Mocha Cupcakes – take two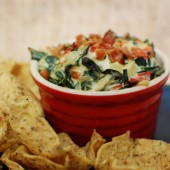 Creamy Red Pepper and Collard Greens Dip
Ingredients:
2 slices bacon
1 small onion, chopped (~1 cup)
1 red pepper, seeded and chopped
1 lb fresh collard greens, trimmed of stalks and veins, chopped (~6 cups)
3 cloves garlic, minced
1 8-oz pkg cream cheese, cubed and softened
1/2 cup (2 oz) Monterey Jack cheese, shredded
1/2 cup plain Greek yogurt
1/4 tsp salt
1/4 tsp red pepper flakes (optional)
Directions:
Preheat oven to 350 F.
In a 12-inch skillet, cook bacon until crisp. Drain bacon on paper towel. Set aside.
Discard all but 2 teaspoons of bacon drippings from skillet. Add onion and sweet pepper to skillet, and cook over medium heat until vegetables are tender, about 5 minutes.
Add collard greens and garlic; cover and cook until tender, about 10 minutes. Remove from heat.
Add cream cheese, cheese, sour cream, salt and red pepper flakes (if using) to the collard mixture, stirring until combined.
Crumble bacon and add to collard mixture.
Spread mixture in a 1-1/2-quart casserole dish, 9-inch pie plate, or individual ramekins. Bake, uncovered, for 10 minutes. Serve with vegetable strips, chips or crackers for dipping.
Leave a Comment