Hasselback Potatoes with Spinach Pesto
I'm sure you guys have been seeing a lot of green foods out there in preparation for St Patrick's Day coming up tomorrow. Well I'm bringing you a green food that didn't require any food coloring! And it's delicious.
A lot of food blogs have featured the Hasselback potato. It is simply referring to how you slice and cook the potato as you can see in the picture. Using this procedure gives a delicious baked potato with crispy edges. And who doesn't love some crispy edges on their potatoes?
I got the idea to top the potato with a spinach pesto from Joy the Baker. The spinach and garlic pesto gives great flavor to the potato. Hubby and I enjoyed these as a light lunch the first time we had them and they would also be great sitting next to a juicy steak!
Based on the recipe below, you will have some leftover spinach pesto. But we've been enjoying it on sandwiches, with pasta, or any other place you'd use pesto!
One Year Ago: Double Peanut Butter Cookies
Two Years Ago: Double Chocolate Brownie Roll Out Cookies
Three Years Ago: Cadbury Egg Bites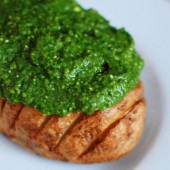 Hasselback Potatoes with Spinach Pesto
Ingredients:
For the Potatoes
4 russet potatoes
4 garlic cloves
4 Tbsp unsalted butter
coarse sea salt
3 Tbsp olive oil
For the Pesto
2 loosely packed cups of spinach
2 garlic cloves
1/4 cups roasted almonds
2 tsp fresh lemon juice
1/2 tsp lemon zest
1/3 cup freshly grated Parmesan cheese
salt and pepper to taste
1/3 cup olive oil
Directions:
For the Potatoes
Preheat oven to 425 degrees F.
Thinly slice garlic cloves. Set aside. Rinse and scrub potatoes well.
Slice a thin layer off of the bottom of the potatoes. This will give them a solid base to rest on to get sliced. Slice into the potatoes but not completely through them. Slice potatoes, creating very thin rounds connected at a base. Slide garlic slices in between potato slices. You might actually need to shove them in… the potato might be pretty tight. Just be careful not to tear the bottom.
Place potatoes on a baking sheet. Generously sprinkle potatoes with salt. Top each potato with one tablespoon of butter. Drizzle with oil. Bake for 1 hour or until tender on the inside and crisp on the outside. Remove the pan about every 15 minutes to baste potatoes in the oil and butter on the pan. This will make the skin crispy and delicious and the potato extra buttery.
When cooked through and crispy, remove from the oven, cool for 10 minutes. Top with spinach pesto and serve.
For the Pesto
Place garlic cloves, spinach, nuts, lemon juice, zest and Parmesan cheese in the bowl of a food processor. Blend until spinach is broken down and, whiles still blending, slowly pour in the olive oil. Turn off food processor, taste and add salt and pepper as needed.
Leave a Comment