Mini Whole Wheat Bagels
I've been wanting to make bagels at home for some time now. As you know, it's on my 30-by-30 list (yay for marking stuff off the list!) So when it was my turn to host the What's Baking challenge, I decided to choose a theme that would encourage me to make something I've been wanting to make for a while. I went with a theme of "Try something New for the New Year". I'm hoping to help others step out of their comfort zone and try something new!
I had a lot of fun making these bagels and will definitely make it part of my weekend routine so that I have some in the house for my daily habit. During the week, I eat a mini whole wheat bagel every day for breakfast. I smear some chocolate peanut butter on top and slice a banana to put on the peanut butter. It's a great breakfast that keeps me full all morning long.
I couldn't find barley malt syrup (I've heard Whole Foods has it, but didn't have time to make it to my WF the week I made these). So instead of the barley malt syrup, I used molasses. The bagels turned out just fine with molasses, but if you can find barley malt syrup, I'd use that instead.
Be sure to read this recipe all the way through. You'll notice that the predough has to set overnight. Don't worry though, the predoughs only take a few minutes to mix up. I started mine late on night just before going to bed. The next day, the bagels do take a bit more time to rise properly, but they're well worth the wait.
I love how puffy and cute these bagels look. And they taste even better. If you've ever wanted to make your own bagels, I highly recommend it!
One Year Ago: Butternut Squash and Spinach Casserole
Three Years Ago: White Chocolate Mocha Cupcakes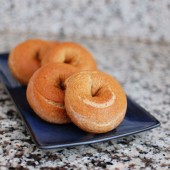 Mini Whole Wheat Bagels
Yield: 8 large or 12 mini bagels
Ingredients:
Pre-dough 1
8 ounces whole wheat flour
1/4 tsp instant yeast
6 ounces (3/4 cup) water
Pre-dough 2
2 Tbsp barley malt syrup (or molasses)
5 ounces water
8 ounces whole wheat flour
1/2 tsp salt
Final dough
both pre-doughs
1 Tbsp water
2 tsp yeast
3/4 tsp salt
7 Tbsp flour, plus more if necessary
1 Tbsp baking soda (for boiling)
Directions:
In the bowl of a stand mixer fitted with the dough hook, mix all of the ingredients in Pre-dough 1 on medium-low speed until combined. Set aside for 5 minutes. Meanwhile, in a 1-cup measuring cup, stir together the barley malt syrup and the 5 ounces of water in Pre-dough 2. Set aside, stirring occasionally, until the barley malt syrup dissolves into the water. Return to Pre-dough 1 and knead on low speed for 1 minute. Transfer to a small bowl and cover with plastic wrap or a damp kitchen towel. Refrigerate overnight. Add the flour and salt for Pre-dough 2 to the empty mixer bowl; with the mixer on low speed, pour in the water-syrup mixture. Mix on medium-low just until combined. Cover the mixer bowl with plastic wrap or a damp kitchen towel and set aside at room temperature for at least 8 hours or overnight.
The following day, transfer the refrigerated Pre-dough 1 to room temperature for a couple hours to warm slightly. When you're ready to make the final dough, stir together the 1 tablespoon water and the yeast. In the bowl of a stand mixer fitted with the dough hook, mix both pre-doughs, the water and yeast, and the salt on low speed until combined. While the mixer is running, add in the flour, 1 tablespoon at a time, until it's fully absorbed by the dough. Knead on low speed for 5-6 minutes, adding more flour or water if necessary to form a smooth, firm dough. It shouldn't be sticky.
Let the dough rise at room temperature until it increases to about 1 1/2 times its original size, 1-2 hours.
Divide the dough into 8-12 pieces. Shape each piece into a smooth ball, then roll each piece into a rope about 3/4-inch thick (slightly thicker for larger bagels). Bring the ends of the rope together and gently roll them on a flat surface to seal. Set aside for about 20 minutes.
Meanwhile, preheat the oven to 500 degrees, line a baking sheet with parchment paper or a silicone mat, and bring at least three inches of water to a boil in a large pot over high heat. Add 1 tablespoon baking soda, reduce the heat to medium-high and gently drop 2-4 bagels (as many as will fit without crowding) into the water. Boil for 1 minute, flipping the bagels halfway through.
Place the boiled bagels on the prepared baking sheet. Transfer the sheet to the oven, reduce the oven temperature to 450 degrees, and bake until the bagels are browned and feel hard, 13 minutes for small bagels and slightly longer for larger bagels. (The bagels will soften as they cool.) Cool completely before serving. If you can only fit one baking sheet, holding half a batch of bagels, in your oven at once, refrigerate the remaining unboiled bagels until the first pan is almost done baking, then boil and bake them.
I'm using these bagels as my monthly What's Baking challenge. The theme this month is to try something new for the new year – and I'm hosting this month! So check back in a few days to see what everyone made.
12 Responses to "Mini Whole Wheat Bagels"
Leave a Comment