Turnip Puff
Hubby and I celebrated Thanksgiving at our house on the Friday after Thanksgiving. I didn't want to go too overboard with the menu so I asked Hubby what the one side dish he needed on the table to make it feel like Thanksgiving. For me, it is the green bean casserole. For Hubby, it is mashed turnip. I decided to make this turnip puff instead of just heating up some frozen mashed turnip.
Hubby said these were the best turnips he had ever had (don't let his mom find out!) The flour and eggs made the turnips more hearty and less watery. The paprika and bread crumbs on top add a nice flavor and texture as well. If you are looking for a holiday side dish, I highly recommend this one!
One other thing. You can make this ahead of time and freeze it. Then just let it defrost a few hours prior to baking it.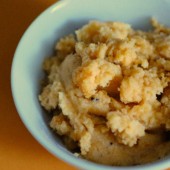 Turnip Puff
Ingredients:
3 cups hot mashed turnip
3 Tbsp butter
2 eggs, beaten
3 Tbsp flour
1 Tbsp brown sugar
1 Tbsp baking powder
1/8 tsp pepper
1/2 tsp salt
1/2 tsp paprika
dried bread crumbs and butter for the top
Directions:
Combine turnip, butter, and beaten eggs. Mix thoroughly until butter is completely melted.
Add flour, sugar, baking powder, pepper, and salt. Mix well.
Spread into a buttered casserole dish.
Top with dried bread crumbs and paprika, and dot with butter. Bake for 25 minutes at 375.
One Response to "Balsamic Roasted Vegetables"
Leave a Comment