Mini Roast Beef, Goat Cheese, and Radish Sandwiches
I made these little sandwiches for a party we had at our house a while ago. They were a HUGE hit and would be perfect for the Superbowl in a couple weeks. You could really use whatever sandwich combinations you enjoy in some little puff pastry buns.
Making the little puff pastry buns took a bit of time just because after they cooled, they all had to be cut in half. I made the puff pastry buns one day and assembled the sandwiches the next day.
Hubby requested roast beef and I decided to pair it with some creamy herbed goat cheese and a thin slice of radish to give it some bite and crunch. The combination was pretty awesome and I can't wait to make these again!
One Year Ago: Oatmeal Chocolate Cinnamon Cookies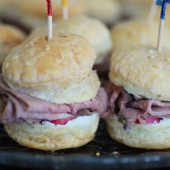 Mini Roast Beef, Goat Cheese, and Radish Sandwiches
Ingredients:
2 8-ounce sheets of frozen puff pastry (thawed)
2 Tbsp sesame seeds
4 oz herbed goat cheese, at room temp
10-12 ounces thinly sliced roast beef
10 radishes, thinly sliced
Directions:
Heat oven to 375.
Using a 2-inch round cookie cutter, cut circles from puff pastry and place on a baking sheet. Sprinkle with sesame seeds and bake until golden brown, about 18 minutes.
Allow puff pastry to cool and then split each puff. Spread some goat cheese on the bottom of each puff. Add a slice of radish and top with a piece of roast beef. Replace top of puff and use a toothpick or other skewer to hold sandwich together (optional).
5 Responses to "Ham, Spinach, & Goat Cheese Quiche"
Leave a Comment