Butternut Squash and Spinach Casserole
Hubby and I love butternut squash. It's another one of many foods that I had never tried prior to meeting Hubby. He has definitely opened my eyes to many new and wonderful foods in the 8+ years we've been together.
We both enjoy squash just roasted in the oven, but it's fun to dress things up every once and a while. This dish feeds quite a few and travels really well. So it's great for get togethers of any kind. We took this to Hubby's work holiday party and the dish came home clean. It really is a very tasty dish that could accompany any main course.
Be sure to give yourself plenty of time for the prep work for this recipe. Once everything gets chopped, it comes together in about 10 minutes before throwing it in the oven for 45 minutes. But chopping that much squash, plus two onions and prepping the spinach takes a bit of time.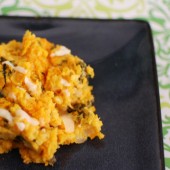 Butternut Squash and Spinach Bake
Ingredients:
3 1/2 pounds butternut squash, peeled and cut in 1/4-inch-thick slices (about 6 cups)
10 oz fresh spinach, washed and stemmed
5 tablespoons unsalted butter, plus more for the pan
1 tablespoon extra-virgin olive oil
2 large yellow onions, trimmed, peeled and chopped (about 3 cups)
1 cup whole or low-fat buttermilk
2 large eggs, beaten
2 1/2 teaspoons minced fresh thyme
1/2 cup bread crumbs, toasted
3/4 teaspoon kosher salt
1/2 teaspoon freshly ground black pepper
1/4 cup pecans, toasted
2 cups coarsely grated cheddar cheese (about 6 ounces)
Directions:
Preheat the oven to 375 degrees F. Butter a 9-x-13-inch baking dish or 4-quart casserole.
Place 3 quarts water in a large stockpot and bring to a boil over high heat. Add the squash to the water, return to a boil, and cook for 5 minutes. The squash will turn a deeper orange. Add spinach to squash and boil one more minute. Drain squash and spinach and set aside.
Melt the butter in the stockpot and add the oil. Add the onions and sauté over medium-low heat until translucent and limp, about 8 minutes, stirring to prevent browning. Add the warm squash and the buttermilk, eggs, thyme, bread crumbs, salt, pepper, 1/8 cup pecans and 1 1/3 cups cheese. Blend with a wooden spoon or spatula until the ingredients are well combined.
Spread the mixture evenly in the baking dish. Bake for 45 minutes. Remove from the oven and sprinkle with the remaining 1/8 cup pecans and 2/3 cup cheese. Bake 15 minutes more. Remove from the oven and serve immediately.
Don't forget – I'm offering a chance to win a cute tote if you donate $5 or more to my Avon Walk by the end of January. See details here.
4 Responses to "Butternut Squash soup in the Crockpot"
Leave a Comment