Chocolate Root Beer Bundt Cake
This Chocolate Root Beer Bundt Cake has been all over the internet. I have seen it on more than one blog. But after someone proclaimed it a recipe worth buying a cookbook for, my interest was piqued. Prior to reading that comment, it had sounded intriguing, but not intriguing enough to make it to the top of my must-bake list.
So I headed to Trader Joe's to get some root beer. If I was going to make a cake with root beer in it, it was going to be some good root beer. I came home with a four-pack and then got distracted. A couple days later when I recommitted to making the cake, all the root beers were gone. Silly Hubby – he thought I got those for him. Once I got more root beer, I hid enough for the recipe in the back of the fridge.
A couple days later, I finally got around to making this cake. Although, I think the name is misleading. I didn't get a root beer taste at all from this cake. Even when I sat and thought about root beer while eating it. I was trying so hard to make it taste like root beer, but I just couldn't taste it.
I asked a few people at work about what the cake tasted like and I got a variety of answers including comments about chocolate, super moist, really awesome, but nothing about root beer. I do agree with my coworkers, this is a moist chocolatey bundt cake. And just look at that thick layer of frosting. How could anything be sub-par with that much frosting on top?
Has anyone else out there made this cake? Did you think you could taste the root beer?
One Year Ago: Pumpkin Pancakes with Cranberry Compound Butter and America's Test Kitchen Food and Friends – Rack of Lamb Dinner Party
Two Years Ago: Cranberry Sauce
Three Years Ago: Pumpkin Pasta and Pumpkin and Chocolate Caramel Corn
Four Years Ago: Ginger Pumpkin Cupcakes and Halloween M&M Treats
Five Years Ago: Shark Cupcakes and Lemon Berry Muffins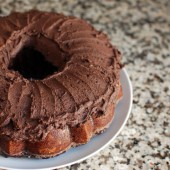 Chocolate Root Beer Bundt Cake
This moist chocolate bundt cake has a serious layer of chocolatey frosting
Ingredients:
For the Cake
2 cups root beer (not diet)
1 cup dark cocoa powder
1/2 cup (1 stick) unsalted butter, cubed
1 1/4 cup granulated sugar
1/2 cup packed brown sugar
2 cups flour
1 1/4 tsp baking soda
1 tsp kosher salt
2 large eggs, room temperature, lightly beaten
For the Frosting
2 ounces (about 1/3 cup) dark chocolate, melted and cooled slightly
1/2 cup (1 stick) unsalted butter, room temperature
1 tsp kosher salt
1/4 cup root beer
2/3 cup dark unsweetened cocoa powder
2 1/2 cups powdered sugar
Directions:
For the Cake
In a small saucepan, melt together the root beer, cocoa powder, and butter over medium heat until the butter is melted and the mixture is smooth. Add in the sugars and whisk until they are completely dissolved, then remove the pan from heat and allow to cool slightly.
Meanwhile, in a large mixing bowl, combine the flour, baking soda, and salt.
Preheat the oven to 325 degrees F and generously spray the inside of a 10-inch bundt pan with nonstick cooking spray, or butter it, dust with flour, and tap out any excess flour.
Once the chocolate/root beer mixture has cooled, whisk in the beaten eggs.
Gently pour the chocolate mixture into the flour mixture, and fold everything together until well combined. The batter will be slightly lumpy, but don't overbeat it.
Pour the batter into the prepared pan and bake for 35-40 minutes, rotating the pan halfway through the baking time, until a small sharp knife or long toothpick/skewer inserted into the cake comes out clean. Transfer the pan to a wire rack to cool completely, then gently loosen the sides of the cake from the pan and turn it out onto a large plate.
For the Frosting
Beat the butter and melted chocolate together with a stand or hand mixer, then, on slow speed, beat in the salt, root beer, and powdered sugar, until shiny and smooth.
Use a spatula to spread the fudge frosting over the crown of the bundt cake in a thick layer, then place the cake in the fridge for 10 minutes or so to allow the frosting to set before serving.
You can place the cake in an airtight container overnight if you want to make the cake the day before.
7 Responses to "My Favorite Brownies"
Leave a Comment