Cranberry Sauce
Cranberry sauce is such a classic Thanksgiving dish. I almost feel silly posting this recipe, since it just came from the Ocean Spray website, but since we love it so much, I decided it was blog-worthy. This is the only recipe I make and it always gets rave reviews. And it's so easy, there's no excuse for eating cranberry sauce from a can.
You'll notice that I took down all the pinkness from my blog today. I've also got some fall favorites on my side bar and brought back my header from August, so be sure to stop by if you're reading through a reader to check it out!
Two Years Ago: Halloween M&M Pretzel Treats
Three Years Ago: Deviled Eggs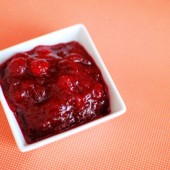 Cranberry Sauce
Ingredients:
1 cup sugar
1 cup water
12 ounces fresh cranberries, rinsed and drained
Directions:
Combine water and sugar in a medium saucepan. Bring to boil; add cranberries, return to boil. Reduce heat and boil gently for 10 minutes, stirring occasionally. Cover and cool completely at room temperature. Refrigerate until serving time.

Boston area readers, don't forget that I'm selling pies for Pie In the Sky. The cost of your pie will feed someone in need for an entire week! Please consider buying a pie for a good cause.
26 Responses to "Vanilla Peach Bourbon Jam"
Leave a Comment