Cara's Pumpkin Pasta
It seems like every blogger out there has made this recipe. It was only time until I made it myself. What better time to than A Week of Pumpkin to make Cara's famous Pumpkin Pasta. If you don't know about Cara's blog, be sure to check it out. She's definitely a pumpkin princess. She puts pumpkin in things that I would never think to put pumpkin in.
I know most people have made this with penne, but I got bowtie pasta because I love bowtie pasta. Hubby and I rarely have pasta in the house. We just don't eat it that much. I don't think the shape of the pasta had a negative impact on the dish at all.
I doubled Cara's recipe so that I could freeze some of it for Hubby and I to take in our lunches next week. With my doubled recipe I got 6 servings. Four of which went straight into the freezer. I would never think that I would enjoy pumpkin pasta, but I tell you what, this stuff is delicious. I love the colors of the pumpkin and spinach together on the plate. Goat cheese went really well with this dish as well.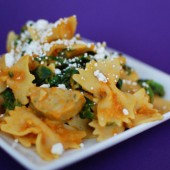 Creamy Pumpkin Pasta
Ingredients:
8 oz bowtie pasta
2 tsp olive oil
1 small onion, thinly sliced
4 cloves of garlic, minced
~2 tsp sage
4 links cooked chicken sausage, sliced
1 cup low fat cottage cheese
1 can pumpkin puree
pinch of freshly ground nutmeg
10 oz torn spinach, thick stems removed
crumbled goat cheese, optional
Directions:
Heat olive oil in a skillet over medium heat. Add onions and cook for about 10-minutes, until softened. Add garlic, sage, and chicken sausage.
Meanwhile, cook pasta according to package directions.
In a blender, combine combine pumpkin and cottage cheese. Blend until no lumps are present. Add to sausage mixture in skillet and continue to cook over low heat. Season to taste with salt and freshly ground pepper, and a pinch of nutmeg.
Drain pasta and return to pot over low heat. Add sausage mixture and baby spinach, and toss together. Cover for a few minutes to let the spinach wilt. Serve with goat cheese, if desired.
And don't forget about my Power of Pink Challenge going on all month.
Check out my week of pumpkin here.
3 Responses to "Pumpkin, Dulce de Leche, Oat Bars"
Leave a Comment