Pumpkin Pancakes with Cranberry Compound Butter
Well guys. We made it. One whole month of pink food (well, there were a few exceptions). Today is the last pink recipe for a while. Hubby was a good sport, but I think he's sick of it.
This was honestly one of my favorite recipes of the month. The pumpkin pancakes are fluffy and light. And that cranberry compound butter has an amazing fresh tart and sweet flavor that compliments the pumpkin pancakes just perfectly.
We also enjoyed this cranberry compound butter spread on some toast. I think it would be a great condiment to have on the Thanksgiving table.
One Year Ago: Cranberry Sauce
Two Years Ago: Pumpkin Pasta and Pumpkin and Chocolate Caramel Corn
Three Years Ago: Halloween M&M Treats
Four Years Ago: Lemon Berry Muffins
Don't forget about my Power of Pink Challenge – make something PINK by the end of the month to raise Breast Cancer Awareness!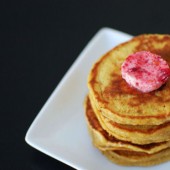 Pumpkin Pancakes with Cranberry Compound Butter
Ingredients:
For the Pumpkin Pancakes
1/2 cup all-purpose flour
1/2 cup whole wheat flour
2 Tbsp sugar
2 tsp baking powder
1 tsp pumpkin pie spice
Alternatively, use:
1/2 tsp ground cinnamon
1/4 tsp ground ginger
1/8 tsp ground nutmeg
1/8 tsp ground allspice
1/2 tsp salt
1 cup milk
1 cup pumpkin puree
4 eggs, separated
4 Tbsp unsalted butter, melted
1 tsp vanilla extract
For the Cranberry Compound Butter
1/2 cup fresh or frozen cranberries
1/4 cup maple syrup
zest of 1 orange
1 cup butter, softened
Directions:
For the Pumpkin Pancakes
In a large bowl, whisk together the flours, sugar, baking powder, pumpkin pie spice, and salt.
In a separate bowl, combine the milk, pumpkin puree, egg yolks, melted butter, and vanilla extract together, mixing well until smooth.
Add the wet ingredients to the dry ingredients, mixing with a spatula until just combined.
In another small bowl, using an electric hand mixer (or whatever you have on hand), beat the egg whites until thick and stiff.
Gently fold the egg whites into the pancake batter, mixing until smooth.
Meanwhile, heat a frying pan over medium heat.
Lightly spray the pan with cooking spray, and, in 1/4-cup increments, cook each pancake until lightly browned on each side, about 1 minute per side.
Repeat with the remaining batter.
For the Cranberry Compound Butter
Meanwhile, in a small saucepan, combine cranberries and syrup.
Cook over medium heat until berries pop, about 10 minutes.
Transfer to a small bowl and add orange zest; cool slightly. Beat in butter until blended.
Leave a Comment