Peach Cherry Pie with Crumb Topping
I found out a couple weeks ago that the number one thing my mom craved when she was pregnant with me was peaches – guess I've loved them since day 1! Then growing up, we had a peach tree in our back yard. I remember being very young and eating fresh juicy peaches off of our tree.
When looking through my blog, I haven't posted many peach recipes. I think that's because I prefer to just eat them straight up. Why mess with them by baking them?!? But a couple weeks ago my eyes were bigger than my stomach. I found myself up to my elbows in fresh ripe peaches. I just couldn't eat them fast enough.
So I started searching for a recipe to help use up my bounty of peaches. First I stumbled upon this recipe for a peach-cherry galette. As I mentioned before, I'm not a huge fan of raw cherries. While I was browsing the internet, this recipe for a crumb topped fruit pie also caught my eye.
I decided to combine these two recipes into one amazingly delicious pie. I can definitely see myself making this pie again with a whole variety of fruit fillings. If you can dream up a combination of fruits, I'm sure it would work in this recipe.
I shared this pie with Hubby's family on a recent weekend trip to Newport. Everyone enjoyed the pie, especially nuked for 30 seconds with a scoop of vanilla bean ice cream on top.
One Year Ago: Nectarine Blueberry Cobbler
Two Years Ago: Salmon Burgers, Chicken Parmesan Burgers, and Burger of the Gods
Three Years Ago: Cinnamon Roll Cupcakes with Cream Cheese Frosting and Strawberry Peach Basil Cupcakes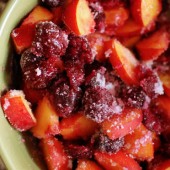 Peach Cherry Pie with Crumb Topping
Peaches and cherries prove to be a great combo in this pie
Ingredients:
For the Pie
1 pie crust
For the Pie Filling
3 cups peaches, sliced
2 cups cherries, stemmed, pitted, and cut in half
3/4 - 1 cup sugar
3 Tbsp flour
1 Tbsp lemon juice
1/8 tsp salt
For the Crumb Topping
3/4 cups flour
1/4 cup + 2 Tbsp brown sugar
2 Tbsp + 2 tsp sugar
1/8 tsp salt
1/8 tsp cinnamon
3/4 stick chilled unsalted butter, cut into pieces
Directions:
For the Pie
Preheat oven to 400 degrees.
Prepare you favorite pie crust recipe and roll into a pie plate.
For the Pie Filling
Combine 5 fruit with sugar, flour, lemon juice, and salt.
For the Crumb Topping
In a bowl, mix flour, both sugars, salt, and cinnamon.
With your hands, work in butter pieces, until large clumps form.
Assemble the Pie
Pour pie filling into pie shell. Sprinkle with the crumb topping.
Place on foil-lined baking sheet in lower third of oven; reduce heat to 350 degrees.
Bake until fruit bubbles and crust browns, 1 1/2 hours. If topping begins to brown too quickly, tent with foil. Let cool 6 hours.
Leave a Comment