Chicken Parmesan Burgers
As I was saying not too long ago, Hubby and I really miss grilling out. It's just such a classic summertime event. And, you can prepare quick and easy dinners that are healthy and delicious. Oh grilling, how I miss you…

Since we can't grill, we like to recreate grill-like flavors inside. We make a lot of burgers and broil them. We always make them with chicken or turkey and in fact I don't think we've ever bought ground beef since moving to Boston. With so many fun ways to dress up a poultry burger, who needs beef?

This recipe comes from Elly Says Opa and does not dissappoint. I have to admit that I love caramelized onions and sauteed mushrooms, so it is quite possible that the toppings helped my opinion of these burgers. The melted cheese and chunky roasted garlic tomato sauce can't hurt either. I cooked these up one night and we had dinner for two nights since the recipe make 4 burgers.
One Year Ago: Chocolate Chocolate Cupcakes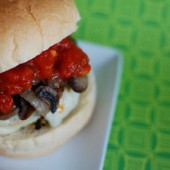 Chicken Parmesan Burgers
Ingredients:
1 lb ground chicken
1/4 cup plain bread crumbs
2 tsp Italian seasoning
1/4 cup chopped parsley
1 clove garlic, pressed
salt and pepper
Topping Suggestions
pasta sauce
4 slices mozzarella or provolone
sauteed mushrooms
caramelized onions
4 toasted buns
Directions:
Lightly mix together all the ingredients for the burgers. Form into 4 patties.
Heat sauce in a pot on the stove while cooking burgers.
Preheat & spray the broiler with a little oil (or use the grill). Broil the burgers for about 4 minutes on the first side, then flip and broil for 3 minutes.
Top each chicken burger with and a slice of cheese. Place back under the broiler for 30-60 seconds, until cheese in melted and burger is cooked through. Place the buns in the broiler for about 10 seconds, just until toasted. Place burger on toasted bun and top burger with your favorite toppings.
6 Responses to "Cara's Pumpkin Pasta"
Leave a Comment