Salmon Burgers
I promised the other day that I'd share some recipes to fill those homemade hamburger buns. So this week I will be featuring a week of burger recipes! All sorts of patty-shaped-proteins to be served on a bun.
To kick things off, I'm going to feature the BEST salmon burger I've ever had. Literally the best. If this is the only recipe you make from my week of burgers, you'll be a happy camper.
The burger combines some fillet of salmon with smoked salmon and a few other ingredients. The saltiness from the smoked salmon gives a great depth to this burger. It doesn't need a bunch of fancy condiments or toppings because this patty is downright tasty.
I got 3 patties out of the recipe and had one leftover the next day for lunch. I ate it over a salad of spinach and tomato which was another great way to eat this guy.
The recipe comes from the little tear out booklet in the June issue of Food Network Magazine. I've only tried a few recipes from FNM, but I've enjoyed them all so far.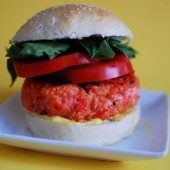 Salmon Burgers
Ingredients:
1 lb wild salmon, diced
4 scallions
1/4 cup breadcrumbs
4 oz smoked salmon, chopped
Toppings:
fresh spinach
mayo mixed with yellow mustard
Directions:
In the food processor, puree half of the diced salmon with scallions.
In a medium bowl, combine the pureed mixture with the remaining diced salmon, breadcrumbs, and smoked salmon.
Shape into 3 patties. Make an indentation in the center.
Heat a cast-iron skillet over medium-high heat. Sprinkle skillet with salt. Cook the patties for 4-5 minutes per side. Serve on sesame buns with spinach and mayonnaise mixed with mustard.
Leave a Comment