Strawberry Blonde Cookies-n-Cream Ice Cream
Roasted strawberry ice cream studded with chunks of blonde Oreos. This pretty pink ice cream packs a punch of flavor.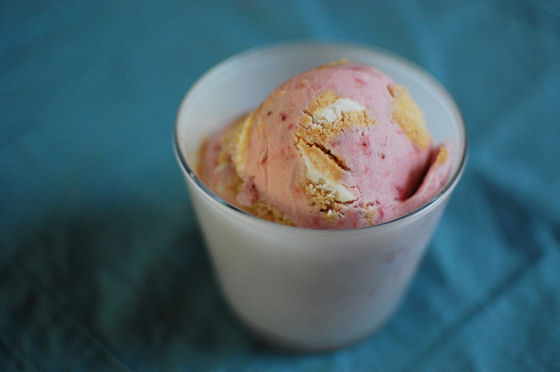 This time of year can be so frustrating. Right when I'm ready to completely retire all my summer skirts and shorts for the year, we have a day where it's 87. Now that the leaves are starting to change, I'm ready for Fall to be here for good. Hubby and I both love ice cream, so I don't see my ice cream making obsession subsiding any time soon. I hope you guys won't mind year-round ice cream posts.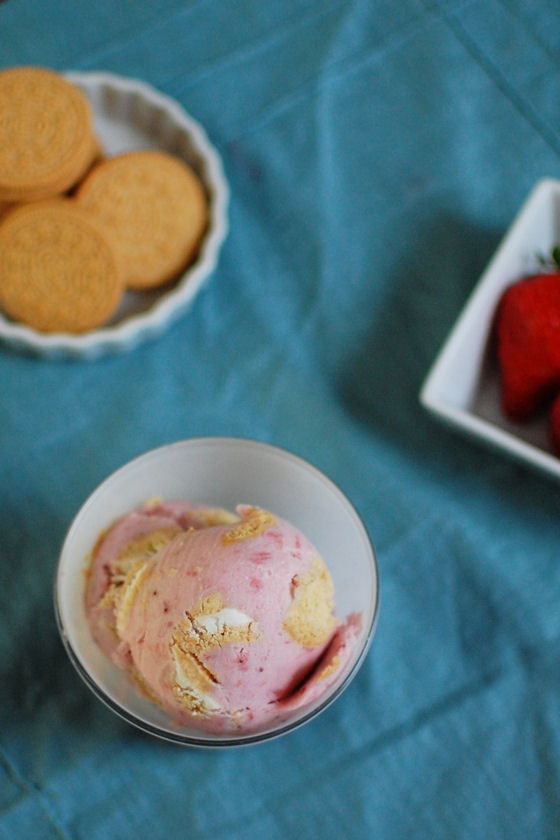 As much as I love Oreos, I have to admit that I've never actually had a Blonde Oreo before making this ice cream. They sure are delicious, but nothing beats a standard Oreo. A couple years ago, Hubby and I played in a kickball league with some friends. There was a bar near the fields that we would stop in after our games. They had a big jar of Oreos sitting on the bar for people to help themselves to. My good friend K and I would always sneak at least one Oreo when we went there. Sometimes two or three…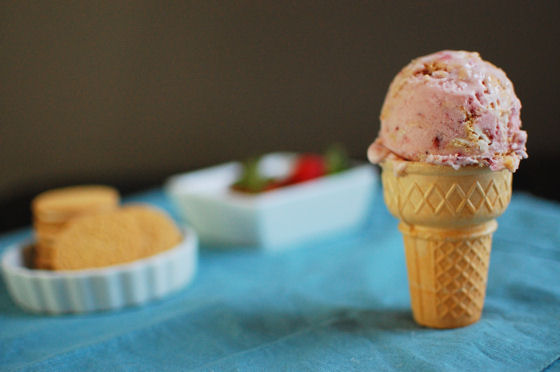 I have to admit, I loved this ice cream. But I do think it would be equally delicious, if not better, with regular chocolate Oreos. Whichever kind of Oreo you use, definitely add this to your must-make ice cream list. If you're anything like me, that list grows faster than I can make ice cream, but that's ok.
And, if for some horrible reason, you don't like regular or blonde Oreos, the strawberry base of this ice cream would be great on it's own as well. It has roasted strawberries in it. How could it possibly be bad?!? Roasting fruit just makes them even sweeter and more intensely flavored than they are raw.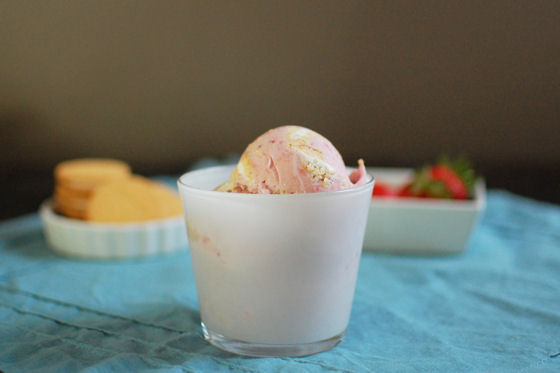 Don't forget about my Power of Pink Challenge! Make something PINK during the month of October to raise Breast Cancer Awareness and a chance to win a $100 donation to the charity of your choice.

One Year Ago: Pumpkin Vanilla Cocktail with Spiced Sugar Rim
Two Years Ago: Roasted Beet and Goat Cheese Risotto
Three Years Ago: Smores Brownies and Smores Cupcakes
Five Years Ago: M&M Cookies
Six Years Ago: Vegan Margarita Cupcakes and Monday Night Football Cupcakes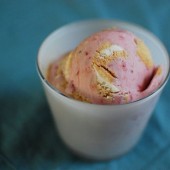 Strawberry Blonde Cookies-n-Cream Ice Cream
Roasted strawberry ice cream studded with chunks of blonde Oreos. This pretty pink ice cream packs a punch of flavor.
Ingredients:
For the Roasted Strawberries
1 lb container strawberries, hulled & halved
1 Tsbp sugar
For the Other Mix-ins
2 cups roughly chopped blonde Oreos (~25 cookies)
For the Ice Cream Base
2 cans coconut milk
4 tsp cornstarch
2/3 cup sugar
2 Tbsp light corn syrup
1/4 tsp kosher salt
3 Tbsp cream cheese, softened
Directions:
For the Roasted Strawberries
Preheat oven to 300 degF. Toss strawberries with sugar on a parchment-lined baking sheet and roast in oven for 20 minutes. Let cool completely.
Process cooled roasted strawberries, plus any accumulated juices, in a food processor or blender until pureed. Set aside or refrigerate until ready to use.
For the Ice Cream Base
In a bowl, stir together 1/4 cup milk and the cornstarch; set slurry aside.
In a 4-qt saucepan, whisk together 3 cups milk, sugar, syrup, and salt; bring to a boil over medium-high heat.
Cook for 4 minutes; stir in slurry. Return to a boil and cook, stirring, until thickened, about 2 minutes.
Place cream cheese in a bowl and pour in 1/4 cup hot milk mixture; whisk until smooth. Then whisk in remaining milk mixture.
Chill mixture in fridge until completely cool or overnight.
For the Ice Cream
Stir the roasted strawberry mixture in to the coconut milk mixture. Pour mixture into an ice cream maker; process according to manufacturer's instructions.
During the last five minutes, add the blonde Oreo pieces. Freeze at least 4 hours before serving.
One Response to "Cranberry applesauce"
Leave a Comment