Strawberry Peach Basil Cupcakes

We had a bakoff at work and I wanted to make a cupcake with a creative flavor combination. To get inspiration I decided to flip through the Iron Cupcake Earth Flickr pool. There are some great cupcake photos in there! I could spend hours just browsing through that photo pool… I came across this recipe and thought it sounded perfect. I've made lemon blueberry basil cupcakes before that were delicious.
I used the recipe from Take the Cannoli as inspiration for the flavor combo but just used my own recipes. The cupcakes are Martha Stewart's yellow buttermilk cupcakes that I made recently with rave reviews.
For the filling, I used the peach jam I just made. I stirred in about two cups of fresh strawberries and reduced it on the stove until it thickened up even more. Then I let the jam mixture cool.
Once the jam was completely cool, I strained some of it through the strainer to get out any pulp and seeds. That strained off version is the sauce that I added to the top of the cupcakes for some additional color. I added some thinly sliced fresh basil to the remaining jam mixture to use to fill the cupcakes.
For the frosting, I used the same base recipe that I posted yesterday, using french vanilla pudding. This base frosting recipe is great and very easy to mix up. Once it was mixed, I added some of the jam filling to the frosting until it got enough of a hint of the fruit and basil without being over powering. Then I added another pinch of the freshly chopped basil just for good measure. I enjoy this type of frosting best at room temperature, so while I do store these cupcakes overnight in the fridge, definitely let them warm up a bit before serving.
I'm happy to announce that I did win the Innovation Award for most creative flavor combination. All the hard work and taste testing paid off!
Don't forget to enter in my 2nd blogiversary giveaway by midnight on August 28th! You could win some cute cupcake liners like the red ones seen in this post!
Check out my week of cupcakes here.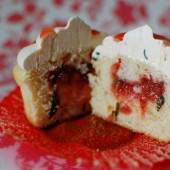 Vanilla Frosting
Ingredients:
1/2 lb. unsalted butter (2 sticks), softened
1 stick salted butter, softened
1/2 pkg french vanilla instant pudding mix
1/2 cup heavy cream
1/2 cup (or more to suit your tastes) powdered sugar
Directions:
In mixer set on medium speed, beat the butter until smooth and silky.
Turn the speed to low and add the pudding mix, when it is all incorporated, slowly add the cream, a little at a time. When fully incorporated bring speed up to high and beat for 5-7 minutes.
Turn speed back down to low and add powdered sugar by Tbsp., tasting along the way. When it is sweet to your taste, beat again at high speed for a good 5 minutes to really break down any graininess that you might get from the powdered sugar.
Bring back down to low speed and beat for a while that way to get rid of air bubbles.
8 Responses to "Caramelized Cherry Cheesecake Ice Cream"
Leave a Comment