Cinnamon Roll Cupcakes with Cream Cheese frosting

For the second day of cupcake week, I bring you a breakfast cupcake. I saw these cupcakes in my Google Reader a while ago and have been waiting for the perfect opportunity to make them. These are great to take in to work, because they're a perfect little mini cinnamon roll to have with coffee.
Over the past two years I've been tackling my fear of yeast. This is another recipe that helps me feel more confident in my yeast-using skills. I'm still not to the point where I'd like to be with yeast, but it doesn't scare me away from recipes like it used to.
I love the perfect swirls in the cinnamon roll cupcakes. I had a lot of fun photographing these guys. And the taste is amazing. Imagine a soft chewy cinnamon roll perfectly packaged in a cupcake liner. I think from now on, I'll always make cinnamon rolls in cupcake liners. They're just too cute not too.
And since the cinnamon rolls can't expand outwards in the cupcake pan, they have to expand up. Look at how high some of them rose!
This one was my favorite. The swirl rose from the inside out making a cute little curly-Q in the center of the cupcake. It was almost too cute to frost… almost…
I did have to re-roll almost all of the cinnamon rolls once I cut them. They were just too fat to fit into the cupcake pans. I'm not sure if I didn't roll my dough out enough or what (it was close to the dimensions listed in the recipe), but I just unrolled each one a bit and cut about 3″ off the strip. Then I took all those strips to bulk up the end pieces.
I topped the cupcakes with a small dab of cream cheese frosting. I didn't bother making it look pretty. These cupcakes are perfect heated in the microwave for about 15 seconds to melt the frosting.
Don't forget to enter in my 2nd blogiversary giveaway by midnight on August 28th!
Check out my week of cupcakes here.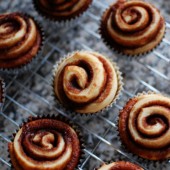 Cinnamon Roll Cupcakes
Ingredients:
2 1/4 tsp or 1 packet (1/4 oz./7 g) dry active yeast
1/2 cup sugar, divided
1 cup warm milk (approximately 110 degrees Fahrenheit)
2 eggs, room temperature
1/3 cup butter, melted
1 tsp salt
4 1/2 cups bread flour
1 cup brown sugar, packed
2 1/2 Tbsp ground cinnamon
1/3 cup butter, softened
Directions:
Dissolve the yeast and 1/4 cup of the granulated sugar in the warm milk in a large bowl and let stand for about 10 minutes until foamy.
Mix in the eggs, butter, salt, and other 1/4 cup of granulated sugar. Add flour and mix until well blended and the dough forms a ball. Put in a bowl, cover and let rise in a warm place until doubled in size (about one hour).
After the dough has doubled in size, turn it out onto a lightly floured surface, cover and let rest for 10 minutes. In a small bowl, combine brown sugar and cinnamon. Line cupcake pan with cupcake liners (I like to double them up because these cinnamon rolls are so moist), and lightly spray over the top of them with cooking spray.
Roll dough into a 12x22 inch rectangle. Spread dough with 1/3 cup butter and sprinkle evenly with sugar/cinnamon mixture. Roll up dough and cut into 24 rolls (I use my pastry cutter - thanks Dad!).
Place each roll in a cupcake liner. Cover and let rise until nearly doubled, about 30 minutes. Meanwhile, preheat oven to 400 degrees Fahrenheit.
Bake rolls in preheated oven until golden brown, about 10-12 minutes. Let rolls cool completely before frosting.
Cream Cheese frosting - I've made this so many times I don't really follow a recipe anymore, but if you'd like to see a recipe, here's the only I use.
One Response to "Cinnamon Banana Bread"
Leave a Comment