Pepperoni Pizza Puffs
You knew there was something coming up to use that delicious Homemade Garlic Pizza Sauce. Well here it is. Pepperoni Pizza Puffs. I have to admit. I have to admit, I was very excited about all of the miniature food involved in this recipe. Not only are these bites baked in a mini muffin pan, but they use mini pepperonis! If you haven't seen them at your store, trust me, they're too cute to pass up!
I love that you could throw anything in these pizza bites. I went with mini pepperoni because I just couldn't resist. I think some green peppers would be really good as well.
One Year Ago: Roasted Broccoli
Two Years Ago: Cilantro Chicken Burgers and Rocky Ledge Bars
Three Years Ago: Creme Brulee Again
Four Years Ago: Vegan Cupcake Class and Lemon and Key Lime Curd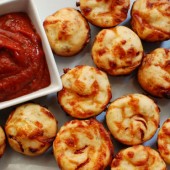 Ingredients:
3/4 cup flour
3/4 tsp baking powder
1/2 tsp dried oregano
3/4 cup milk
1 egg, lightly beaten
4 oz mozzarella cheese, shredded (about 1 cup)
4 oz pepperoni, diced (about 1 cup)
1/2 cup pizza sauce (homemade or store-bought)
2 Tbsp. fresh basil, finely diced.
Directions:
Preheat oven to 375 F. Grease a 24-cup mini muffin pan. In a large bowl, whisk together the flour, baking powder and oregano; whisk in the milk and egg. Stir in the mozzarella and pepperoni; let stand for 10 minutes.
Stir the batter and divide among the mini-muffin cups. Bake until puffed and golden, 20 to 25 minutes.
Warm the pizza sauce, then stir in 1 tablespoon basil. Sprinkle the puffs with the remaining 1 tablespoon basil. Serve the puffs with the pizza sauce for dipping.
One Response to "Bacon Bourbon Brownies"
Leave a Comment