Cilantro Chicken Burgers
One of my favorite things about blogging is all the wonderful people I've had the opportunity to meet. One of these people is Cara. As an added bonus, she lives near Boston so I've had the chance to meet her, cook with her in her kitchen, and eat at an event that she catered. If you ever need a healthy idea for dinner, check her blog. She mixes flavors that I would never think to mostly because I'm not very a confident cook. Everything I've tried from her blog has been great.
This recipe is no exception. I didn't have any tequila in the house, so I left it out, but I will definitely be making these again. I doubled the recipe and froze half of them to have later. I topped the burgers with some drunken peppers and served them on some sandwich thins (love those things!)
One Year Ago: Creme Brulee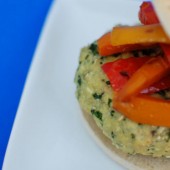 Cilantro Chicken Burgers
Ingredients:
1 lb boneless skinless chicken breasts, cut into chunks
4 large clove of garlic, minced
2/3 cup roughly chopped cilantro
zest from 1 lime
dash of lite soy sauce
freshly ground salt & pepper
1/2 cup plain oatmeal
Directions:
Preheat broiler. Line a baking sheet with aluminum foil and spray with nonstick cooking spray.
Combine the burger ingredients in a food processor and pulse several times, until chicken is uniformly ground. Remove and divide into 6 or 8 portions. Shape each into a ball, place on the baking sheet, and flatten with your palm.
Broil the burgers for about 10-12 minutes total, flipping halfway through. Serve on buns with sauteed peppers and onions.
One Response to "Goat Cheese and Spinach Turkey Burgers"
Leave a Comment