Homemade Garlic Pizza Sauce
I don't like Italian food. I know. It's weird. I've almost lost some friends over that little fact. But it's just not my thing. I think it's because I don't like pizza or pasta. Again, weird, right? I'll eat it, but I don't get excited about going out for Italian. Or cooking it at home.
Much to Hubby's delight, I decided to whip up some homemade pizza sauce. We were getting together for a big group and I wanted to make some appetizers that everyone would enjoy. After making this Homemade Garlic Pizza Sauce, I decided that I might be able to be swayed about the whole Italian food situation…
As always, I put a LOT of garlic in this sauce. It came out thick and chunky and amazingly flavorful.
One Year Ago: Hasselback Potatoes with Spinach Pesto and Cinnamon Roll Bread
Two Years Ago: Sugar Cookie Bars
Three Years Ago: Double Chocolate Brownie Roll Out Cookies
Four Years Ago: Cadbury Egg Bites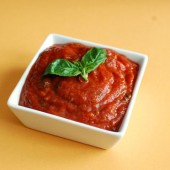 Homemade Garlic Pizza Sauce
Making your own pizza sauce at home is so simple and you'll be amazed at the flavor!
Ingredients:
1 (14.5 oz.) can tomato sauce
3 Tbsp tomato paste
4 garlic cloves, finely minced
1 Tbsp chopped fresh basil
1 Tbsp dried oregano
1 tsp onion powder
1/2 tsp kosher salt
pinch of cayenne
splash of red wine (optional)
Directions:
Combine all ingredients in a small saucepan. Cook over medium heat until bubbles begin to rise (and pop) at the surface.
Reduce heat, cover, and let simmer for another 15 minutes.
Serve warm. Store in fridge up to two weeks or freeze to use later.
34 Responses to "Spicy Peach Jalapeno Jam"
Leave a Comment