Soft Frosted Sugar Cookies
I am sure you have seen these cookies if you read other food blogs. When I made them for our monthly work birthday celebration, I felt like I was the last blogger in the world to make them.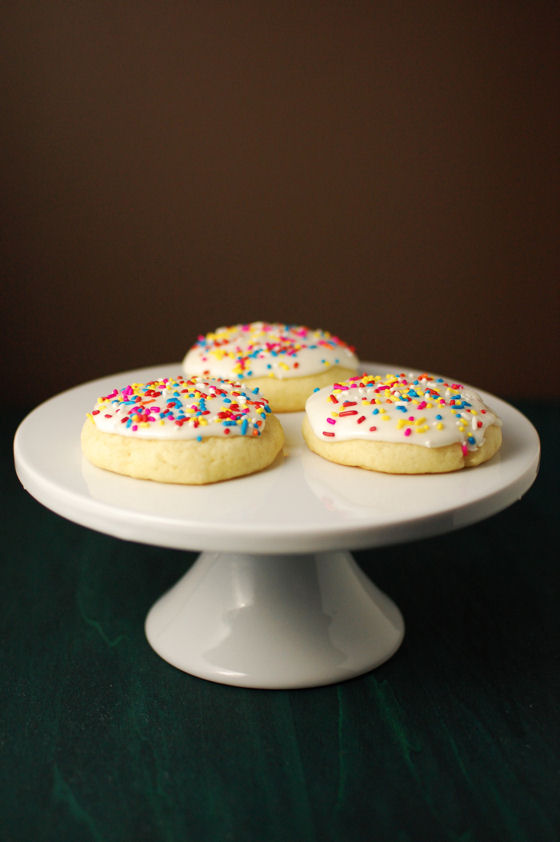 And boy, was I missing out! For years, every time I saw this recipe pop up in a blog, I thought to myself "man, I really need to make those soon". Then something else would pop up and these cookies just never made it to the top of my baking list.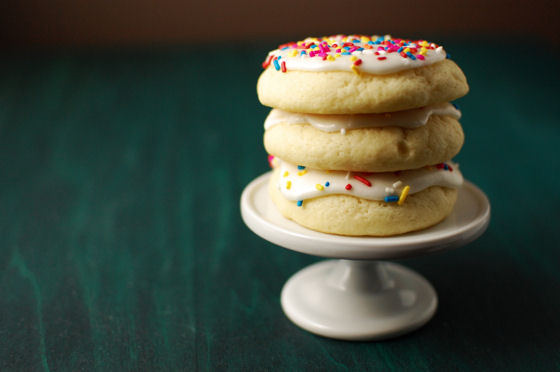 When I asked my guys who had birthdays what they liked, one said she liked anything, one said she loved chocolate, and one said he liked anything but chocolate. I was stumped. I wasn't sure where to go with it, so I started searching through my cookbooks and saved recipes.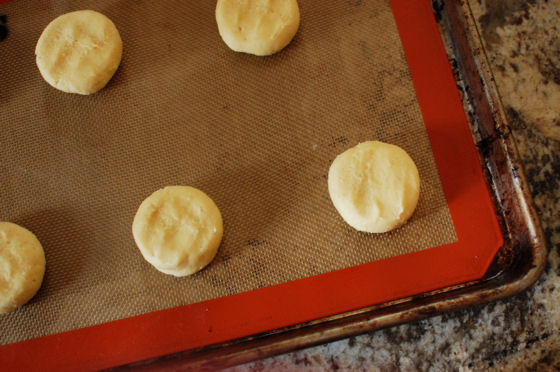 I was in the mood to bake cookies so these cookies were a natural fit. To say these were a hit would be an understatement. Some of the people on my team ate more than one during staff meeting that day. And staff meeting is at 9am. I'm glad I can provide such a well balanced breakfast for my team 😉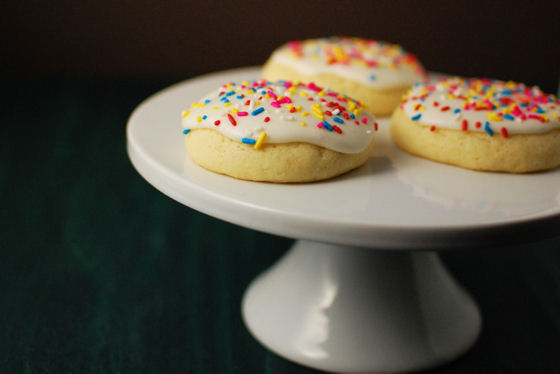 I had planned ahead and saved one lone cookie for Hubby to have. I knew he'd be disappointed if I had baked something and didn't let him try it. He instantly asked for an entire batch so he could have another one.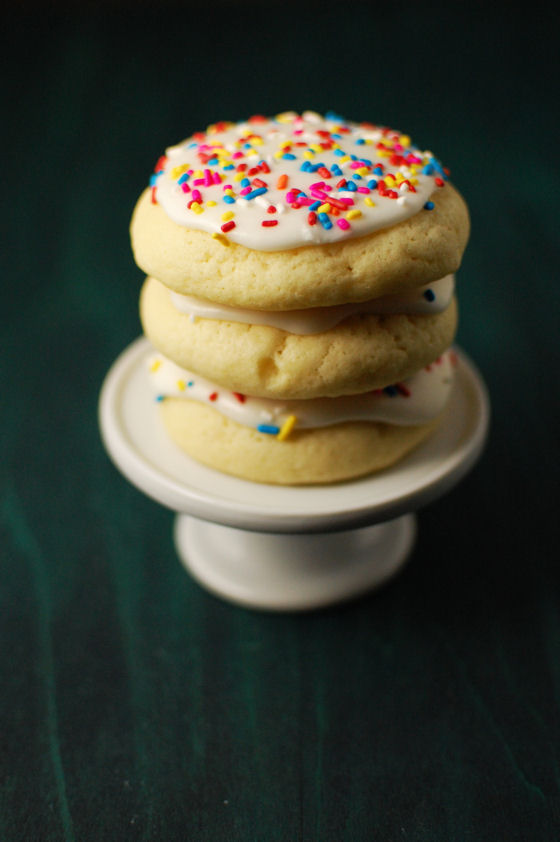 These cookies are just so well known and so well liked, it's a no brainer. You can customize the frosting color and the sprinkles to make them themed for any occasion. They would be a huge hit at a 4th of July party this week. In fact, I might be whipping up another batch to take over to some friends house… Don't be like me and put off making these cookies. Believe me, you'll wish you had made them sooner!
One Year Ago: Lemon Cookie Bars and Grilled Chicken Salad with Mango Salsa
Two Years Ago: Summer Shrimp Salad
Three Years Ago: Chocolate Mousse Cupcakes with Chocolate Dipped Strawberries and Pita Bread
Four Years Ago: Chorizo, Shrimp, and Lentil Stew
Five Years Ago: Layered Cookie Cake and Chocolate Chip Cupcakes with Chocolate Frosting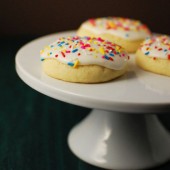 Soft Frosted Sugar Cookies
These cookies are similar to the famous Lofthouse cookies you can buy at the store, except they are homemade and taste a thousand times better!
Yield: 2 dozen large cookies
Ingredients:
For the Cookies
4 1/2 cups flour
4 1/2 tsp baking powder
1 tsp salt
1 1/2 cups (3 sticks) butter, at room temperature
1 1/2 cups sugar
3 eggs
5 tsp vanilla extract
For the Frosting
5 cups confectioners' sugar, sifted
1/3 cup (5 1/3 Tbsp) unsalted butter, melted
1 Tbsp vanilla extract
7-8 Tbsp milk (plus more, as needed)
Food coloring (optional)
Sprinkles (optional)
Directions:
Preheat the oven to 350 degrees. Line baking sheets with parchment paper or silicone baking mats. In a medium bowl, whisk the flour, baking powder and salt. In the bowl of an electric mixer fitted with a paddle attachment, beat the butter and sugar together on medium-high speed until soft and fluffy, about 2-3 minutes. Beat in the eggs one at a time, mixing well after each addition. Blend in the vanilla. With the mixer on low speed, add in the dry ingredients mixing just until incorporated and evenly mixed. Cover and chill the dough for 1 hour.
When you are ready to bake the cookies, scoop a scant quarter cup of dough and roll into a ball. Flatten the ball slightly and place on the prepared baking sheet. Repeat with the remaining dough, spacing the cookies at least 2-3 inches apart. Bake about 10-12 minutes or just until set (do not overbake! The edges should be no more than very lightly browned if at all). Let cool on the baking sheet for several minutes. Transfer to a wire rack to cool completely.
To make the frosting, place the confectioners' sugar in a medium bowl. Add the melted butter, vanilla, and milk to the bowl and whisk until smooth. Whisk in additional milk as necessary, 1 teaspoon at a time, until you reach your desired consistency. Tint with food coloring if desired. Use a spatula or spoon to frost the cooled cookies (If the frosting begins to thicken as you decorate, just continue to whisk in small amounts of milk to keep it workable). Top with sprinkles if desired. Best eaten the day they are made. Store in an airtight container for a couple days.
3 Responses to "Coconut Chocolate Chip Bars"
Leave a Comment