Summer Shrimp Salad
Summertime is all about fresh produce in my mind. Everything just tastes better when it's freshly picked and you're eating it on a warm sunny afternoon. Hubby and I have been eating this salad for weeks now. We make a big batch on Sunday night and it feeds us both for 3 days worth of lunches.
Neither of us have gotten sick of it yet, because we tend to tweak it based on what looks good at the store that week and what we have on hand. In general the flavors and textures are all the same but one week we had a half of a can of leftover black beans in the fridge. We threw those into the salad and it was still amazing. One week we subbed cilantro for the mint. It definitely gave the salad a different spin, but it was still amazing. One week I threw in some pumpkin seeds as well.
One of the best things about this salad is that it encouraged me to try a new food. Radishes. Growing up, my dad always had them in our garden, but I never liked them (not even sure if I had ever tried them). I took my first bite of a sliced radish a couple weeks ago and found out that I like them! Hooray for trying new things!
Now I have to tell you about this recipe. The original recipe is pretty complicated for a salad. Well, maybe not complicated, but definitely involved. Hubby and I have streamlined this process by taking a few short cuts. The major one being that we buy pre-cooked shrimp. Does the salad taste better when you cook the shrimp after marinating it? Yes. But is it a noticeable difference for the amount of time it takes? No.
The other major change that I made was the addition of quinoa. It's just so hearty and good for you, that it really helps keep you full all afternoon after eating this salad. I'm printing the recipe how we make the salad below. Be sure to click through to get the original recipe if you're interested. I also cut the oil out of the dressing to cut some calories. Feel free to throw some olive oil in with the other dressing ingredients if you'd like, but we really don't miss it.
One Year Ago: Pita Bread 
Three Years Ago: Layered Cookie Cake and Monster Cookies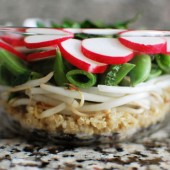 Summer Shrimp Salad
Ingredients:
1/2 cup lime juice
3 Tbsp honey
2 cloves garlic, crushed
1/2 Tbsp fresh ginger, finely grated
Salt and pepper to taste
2 lb large cooked shrimp, peeled and cut in 1/2
12 oz snap peas, diced
2 cups bean sprouts
2 cups cooked quinoa
12 radishes, sliced
4 Tbsp fresh mint, chopped
Directions:
In a small bowl, whisk together the lime juice, honey, garlic, ginger, salt and pepper. Divide into 6 small tupperware containers.
Layer the remaining ingredients into 6 tupperware bowls. When ready to eat lunch, add the dressing to salad. Place lid on container and shake to coat everything with the dressing.
6 Responses to "Roasted Zucchini"
Leave a Comment