Crispy Baked French Fries
French fries are my Kryptonite. I seriously CANNOT control myself around a pile of crispy fried potatoes. I even went a whole month back in 2009 without fries, just to prove I could do it. Because of my love affair with fries, we don't ever make them at home.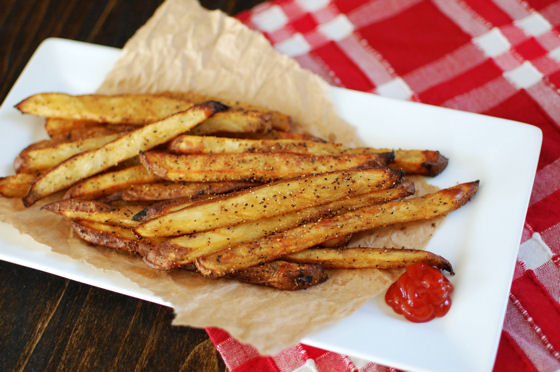 But then I made that homemade curry ketchup… And I was doomed. I started searching for a recipe that would mimic my favorite qualities of a good fry without the frying. I know, I know. Fries that aren't fried just aren't the same. But I was determined to find a way to bake fries and have them turn out crispy. And, what's a good fry without some seasoning on them!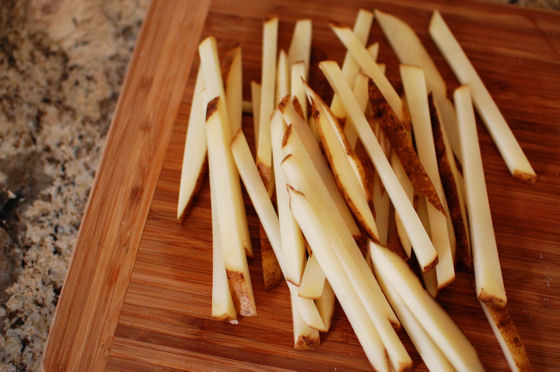 I pulled from a combination of ideas I came across while research. After a few trial and error batches, here's what I came up with.
First, season the heck out of your fries. I tried a couple different variations of seasonings and liked this combination the best. Definitely tailor it to fit your likes. By brushing more of the oil/seasoning mixture on while you flip the fries, you're going to get more of the seasoning to stick to the fries.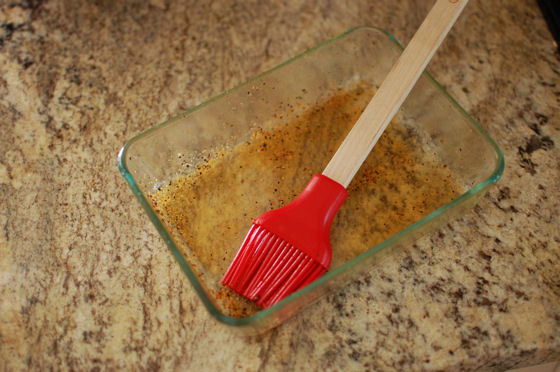 Next, use a rack to cook your fries on. This ensures the potatoes aren't sitting in the oil and can get crisp all the way around. I use the same method of placing a cooling rack over paper towels when I do bacon in the oven, so I'm familiar with the concept. And, no, your paper towels won't start a fire in your oven.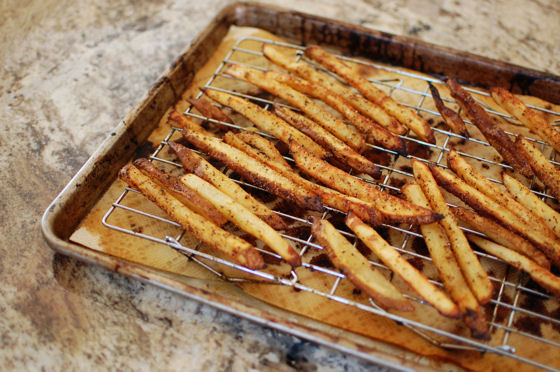 Last, be sure to toss the fries at least once or twice while they're baking. This will help to evenly cook the fries.
Once I came up with a recipe that I liked, it's been hard not to make these on a regular basis to feed my french fry habit. So far, I've been able to stay strong, but writing up this post is making me want to bake up another batch tonight…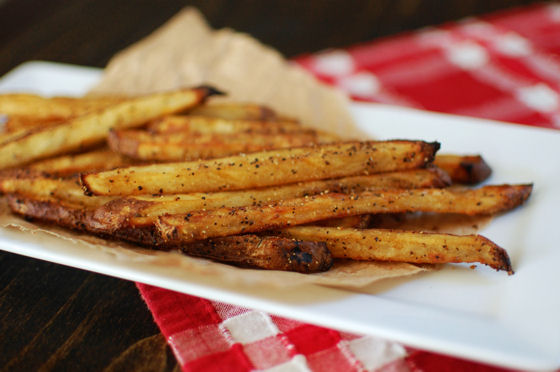 One Year Ago: Spinach-Strawberry Salad
Two Years Ago: My Favorite Brownies
Three Years Ago: Chocolate Chip Cookie Dough Cheesecake Bars and Fire Roasted KetchupFour Years Ago: Ice Cream Cupcake Roundup
Four Years Ago: Chocolate Oreo Rice Krispies Treats in the Microwave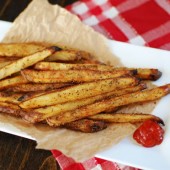 Crispy Baked French Fries
Baked fries can be crispy!
Ingredients:
1 russet potato
1/3 cup vegetable oil
1 1/2 tsp freshly ground pepper
1 1/2 tsp garlic salt
1/2-3/4 tsp kosher salt
1/2 tsp smoked paprika
Directions:
Preheat oven to 450F.
Line a large rimmed baking sheet with paper towels. Place a cooling rack on top of paper towels. Spray racks with non-stick spray.
Cut potato in even strips.
In a shallow dish, combine the oil and seasoning. Add the potato pieces and toss to coat. Keep remaining oil/seasoning.
Spread fries onto cooling rack on baking sheet.
Cook for 25-35 minutes until done. Every 10 minutes, turn fries to ensure even baking and brush more seasoning/oil onto the fries.
5 Responses to "Corned Beef Hash"
Leave a Comment