Ina Garten's Mustard Roasted Potatoes
A few months ago, I won a cookbook from Joelen. I got to choose any Ina Garten cookbook I wanted. I chose Barefoot Contessa at Home. I love flipping through it to drool over the amazing photographs in the book. I finally decided to make something from the cookbook and these potatoes caught my eye. We had everything in the house, so I threw them together.
They are so simple and come out so elegant and delicious. I will definitely be making these again, including when we have company over for dinner. Next time, I think I'll even bump up the amount of onions because the bits of caramelized onions were just fantastic.
One Year Ago: Alton Brown's The Chewy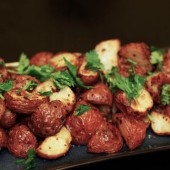 Mustard Roasted Potatoes
Ingredients:
2 1/2 pounds small red potatoes
2 yellow onions
3 tablespoons olive oil
2 tablespoons whole-grain mustard
kosher salt
1 teaspoon coarse ground black pepper
1/4 cup fresh parsley, chopped
Directions:
Preheat the oven to 425 degrees F.
Cut the potatoes into one-inch cubes (halves or quarters for the small potatoes, several more cuts for the larger ones). Place potatoes into a large plastic bag with a zipper seal. Peel onion and cut in half. Slice crosswise to about 1/4 inch thickness to make half rounds and add to bag.
Add the olive oil, mustard, 2 teaspoons salt, and pepper to bag; seal, and toss together. This can be prepped a few hours in advance and left in the plastic bag until ready to roast.
Line a sheet pan with foil and spread potatoes and onions onto pan. Bake for 50 minutes to an hour; until potatoes are lightly browned on the outside and tender on the inside. Toss the potatoes occassionally to prevent sticking and for even browning.
Garnish with chopped parsley and more salt if needed and serve immediately.
2 Responses to "Sweet Potatoes Home Fries – 3 WW Pts"
Leave a Comment