Fire Roasted Ketchup
I've been loving making random condiments this past year. I'm so glad I found these jewel jars to hold all of them. Hubby's favorite of the past year is definitely this fire roasted ketchup. I found the recipe from Rachel Ray when I was looking for a sliders recipe. I didn't end up using her sliders but this ketchup intrigued me enough to try it. Good thing I did!

This condiment provides a great firey flavor that compliments grilled food perfectly. One thing Hubby and I really miss about living in the Midwest is our grill. Our place in Boston is very small and we don't have any room to have a grill anywhere. We miss the ease of being able to just throw something on the grill for a quick meal.

The best thing about this recipe is that it's SO simple to mix up. AND, it makes two jars of ketchup. So you can keep one yourself and give one to a friend. I promise they'll love you for it!

And yes, I do pile that much ketchup on my burgers because this stuff is seriously awesome!
One Year Ago: Chocolate Oreo Rice Krispies Treats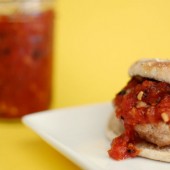 Fire Roasted Ketchup
Ingredients:
1 tablespoon extra-virgin olive oil
3 cloves garlic, finely chopped
3 tablespoons brown sugar
1/4 cup vinegar
1 (15-ounce) can crushed fire roasted tomatoes, about 2 cups
Salt and pepper
Directions:
Heat a small sauce pot over medium heat. Add extra-virgin olive oil and garlic. Cook garlic 2 to 3 minutes then add sugar and vinegar, cook 2 minutes more and stir in tomatoes. Season sauce with salt and pepper and allow it to reduce 5 to 6 minutes more.
Leave a Comment