Purple Potato, Tomato, and Goat Cheese Bruschetta
Are you guys sick of all the purple food yet? I've still got a few more recipes to post and then I'll shut up about purple food. When I saw this Purple Potato Pizza posted back in January, I immediately starred it to make at some point. I hadn't even started thinking about purple food, but the colors on that pizza just popped and drew me in.
When I started pulling a menu together, I had the pizza on the list. I decided that having a tart, baguette slices with the baked brie, AND a pizza would be a little to carb heavy for my tastes. But then I had to decide which of those items to ditch. I went back and forth. Then it hit me, I could use the pizza as inspiration for a dip or something. But dips often go with chips or toast or crackers. More carbs. I decided to let the idea simmer a bit and stopped thinking about it.
A couple days later it hit me – endive leaves! They're crispy and crunchy and not carby at all. Perfect! This is basically the same recipe that I use for bruschetta, except I added some lightly boiled purple potatoes! I added my potatoes to the mixture while they were still a bit warm so the cheese got all melty which was awesome. I would recommend serving this the same day you make it. The Purple Potato, Tomato, and Goat Cheese Bruschetta would be great over sliced baguettes or on chips as well.
One Year Ago: Cranberry Raisin Almond Banana Bread
Two Years Ago: Black Bean and Bell Pepper Cous Cous Salad
Three Years Ago: Alton Brown's The Puffy
Four Years Ago: Shrimp Scampi with Mushrooms and Asparagus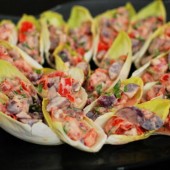 Purple Potato, Tomato, and Goat Cheese Bruschetta
Ingredients:
1 lb purple potatoes
2 large tomatoes
2 oz crumbled goat cheese
1/2 medium red onion, finely diced
large bunch cilantro, chopped
salt and pepper to taste
toasted bagueette slices or endive leaves (separated and washed) for serving
Directions:
Set a pot of salted water to boil. Chop the potatoes into small cubes. Once water is boiling, add potatoes and boil for 5 minutes. Drain potatoes and allow to cool.
Seed and dice the tomatoes and place in a medium bowl. Add the goat cheese and diced red onion.
Once potatoes have cooled, add them to the bowl along with the cilantro and salt and pepper. If the potatoes are warm, the goat cheese will melt a little bit. That's ok.
To serve, spoon bruschetta into endive leaves or over toasted baguette slices.
Leave a Comment