Cream Cheese Pound Cake Bundt
Bundt cake has slowly but surely become one of my favorite desserts to make. The kinds of cakes that are sturdy enough to hold the shape of a bundt are usually easy to execute, like this Cream Cheese Pound Cake. You're not going to be making a fussy delicate cake in a bundt pan. It's just not going to happen.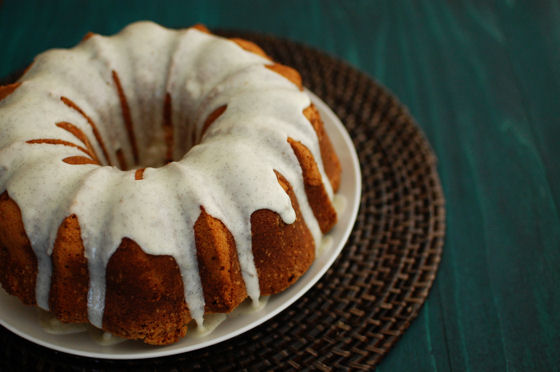 And the result of this minimal effort is a beautifully curvy and round cake that always impresses. Add a drizzle of frosting and you're good to go.
Oh and another thing about bundts, nine times out of ten, they taste better the next day. So they're the perfect dessert for making ahead of time instead of running around during the day when you're having people over, trying to do too many things at once.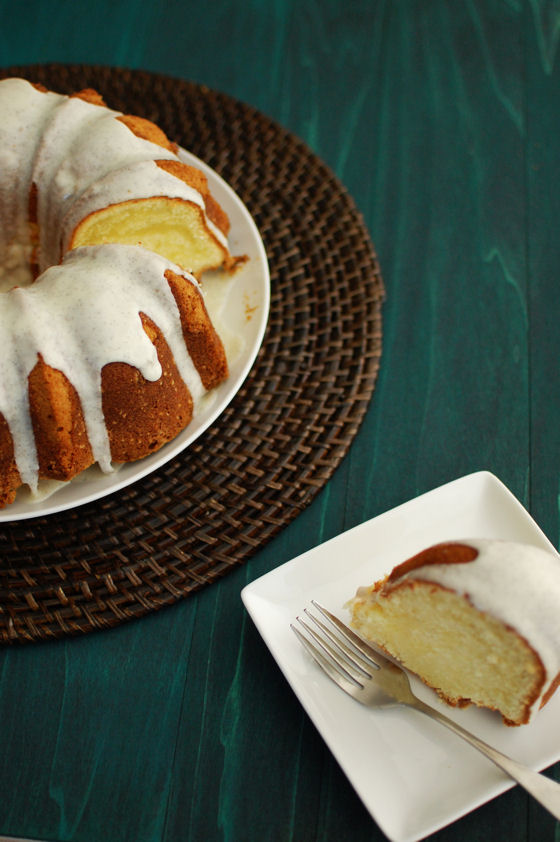 That also makes them perfect to bring along to potlucks or dinner at a friends house. I haven't tried shipping a bundt before, but I'd be inclined to guess that they travel well through the postal system as well. Hmm… That gives me an idea for Mother's Day which is coming right around the corner…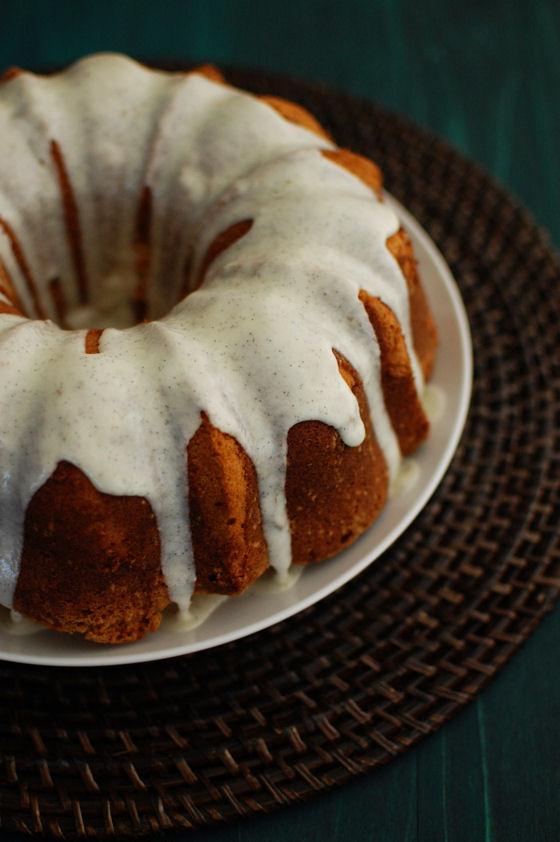 My mom and Hubby's mom might just be getting this bundt in their mailbox for Mother's Day. Shh – it's our little secret…
Speaking of this bundt, it's a keeper. The cream cheese in the batter makes it rich and thick. And vanilla beans are just plain awesome. They're added to the frosting for a maximum impact on the visual appeal and the taste.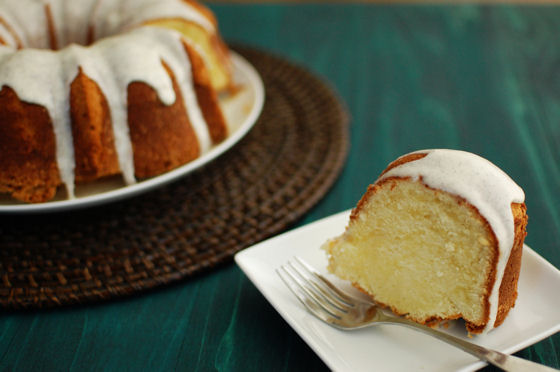 I served this bundt cake when we had friends over for dinner. I made it a couple days in advance and forgot about dessert that day while I was taking care of other things. There were obviously leftovers, which I froze. Hubby and I enjoyed those frozen pieces over the next couple of weeks.
One Year Ago: Rustic Walnut Tart with Bourbon Whipped Cream and Banana Nutella Muffins
Two Years Ago: French Toast Bread Pudding and a Giveaway and Coconut Layer Cake Filled with Lemon Curd
Three Years Ago: Make Ahead Breakfast Burritos and White Cupcakes with Vanilla Buttercream
Four Years Ago: Sugar Cookie Bars and Goat Cheese and Sundried Tomato Appetizers
Five Years Ago: Summer Sqaush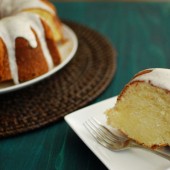 Cream Cheese Pound Cake
Ingredients:
For the Cake
1 1/2 cups butter (3 sticks)- softened
1 (8 ounce) package cream cheese- softened
2 1/2 cups white sugar
1 Tbsp vanilla
1 tsp almond extract (optional)
6 eggs at room temperature
3 cups cake flour - sifted
For the Glaze
1 vanilla bean split open
3 Tbsp of whole milk
1- 1 1/2 cups powdered sugar
Directions:
For the Cake
Preheat oven to 325 F. Use butter to generously grease a 10-inch bundt cake pan.
Cream together the butter, cream cheese, and sugar for about 5 minutes or until very light and fluffy.
Stir in the extracts.
Crack all eggs into a bowl and remove any shells if needed.
With the mixer on low speed, add the flour and the eggs alternately, beginning and ending with the flour, adding one egg at a time and small portions of flour. Do not over-mix.
Pour batter into the prepared pan.
Bake at 325 F for 70-75 minutes or until a toothpick inserted in the center comes out clean.
For the glaze
Pour the milk into a glass measuring cup and scrape the vanilla bean in.
Let it steep for an hour or overnight to really make the milk mixture have a strong vanilla flavor. (If you start the glaze it when the cake goes into the oven, it will be ready as it's cooling.)
Add the powdered sugar and whisk with a fork until thick and well- mixed.
Drizzle over the cooled cake.
25 Responses to "Cream Cheese Pound Cake Bundt"
Leave a Comment