Make Ahead Breakfast Burritos and a Giveaway!
It's been a while since I've had a giveaway on here. When I got an email from Jane Doiron asking if I'd like to giveaway a copy of her new cookbook, I thought it sounded like a great idea. Her book is called Make-Ahead Meals for Busy Moms and is available on Amazon. I have to admit, I'm not a mom but I'll definitely be getting some great usage out of this book (Jane sent me a copy on top of the one I'm giving away).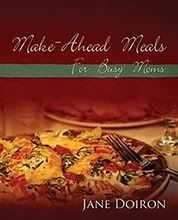 Since Hubby and I both work full time jobs, any way that I can save time on feeding us will definitely help out. We often get home from a long day at work and neither of us want to cook. While the cookbook doesn't have any photos, it does have a lot of recipes that look like they'll come together quickly and really help anyone who's busy and who wants to put homemade meals on the table every night.

I wanted to try a recipe in the cookbook prior to posting this giveaway. I decided to go with the breakfast burritos. They were very easy to assemble and tasted awesome. The other great thing is that you could customize this recipe to suite your preferences or what you have in the house. I used some chicken sausage because that's what I had on hand. I had enough filling for 7 burritos. Hubby and I are enjoying these burritos for breakfast. It's a nice change of pace from the standard banana.

Some rules:
– The prize will only be shipped to US mailing addresses.
– Enter by midnight (EST) Friday, April 9
– One lucky winner will be chosen at random
To enter, leave a comment answering:
– What is your favorite make ahead meal? Or what kinds of meals would you like to learn how to make ahead of time?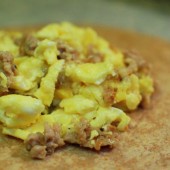 Make Ahead Breakfast Burritos
Ingredients:
1 lb lean breakfast turkey or chicken sausages
1 Tbsp butter
12 eggs
1 cup cheddar cheese, shredded
6 flour tortillas
Directions:
Heat a large nonstick skillet over medium heat. Remove the casings from the sausages and place in skillet. Brown the meat using a spatula. When fully cooked, remove sausage to a bowl and set aside.
Remove grease from pan with paper towel and return to heat. Melt the butter in the pan. Scramble the eggs in a bowl and pout into skillet. Stir frequently to cook.
Remove skillet from heat and add sausage and cheese. Stir until well combined.
Place 1 cup of the egg filling on each tortilla and roll up like a burrito. Places each burrito seam side down on a cookie sheet. Cover with plastic wrap and place in the refrigerator to cook. Once cooled, wrap each burrito in plastic wrap and place in a freezer bag. Freeze up to 1 month.
To reheat, remove burrito from its packaging. Wrap loosely in a paper towel and microwave on high until heated through, 1-3 minutes.
8 Responses to "Crockpot Chicken Tacos"
Leave a Comment